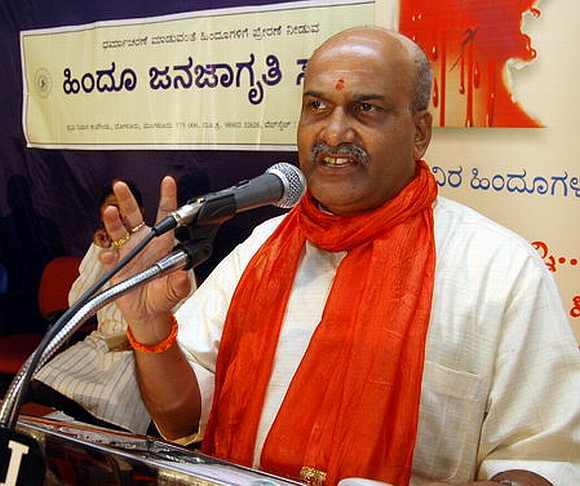 The Goa Congress has demanded Sri Ram Sene chief Pramod Muthalik be detained under the National Security Act, claiming him as a "threat to national security".
"Muthalik should be detained under NSA. He is a threat to national security. We will work with the people of Goa against him. Muthalik will have to face us on the streets, if he tries to have his activities in the state," Goa Congress Chief John Fernandes said.
Fernandes said Muthalik is also a threat for tourism in Goa. "Like tourists don't go to Pakistan and Afghanisthan, fearing Taliban, similarly they will stop coming here, if Taliban in the form of Muthalik is allowed to spread his wings here. Our own Taliban will be a drawback for tourism," he added.
Earlier, the Sene chief has announced his plans to open Sene's unit in Goa in September, this year. The Bharatiya Janata Party's Goa unit, had however, said that the government cannot stop Sene to enter and operate in Goa, if they are doing it within the legal framework.
"We are not surprised by BJP's U-turn. We have been saying that they will use minorities only during the elections," he said.
© Copyright 2022 PTI. All rights reserved. Republication or redistribution of PTI content, including by framing or similar means, is expressly prohibited without the prior written consent.