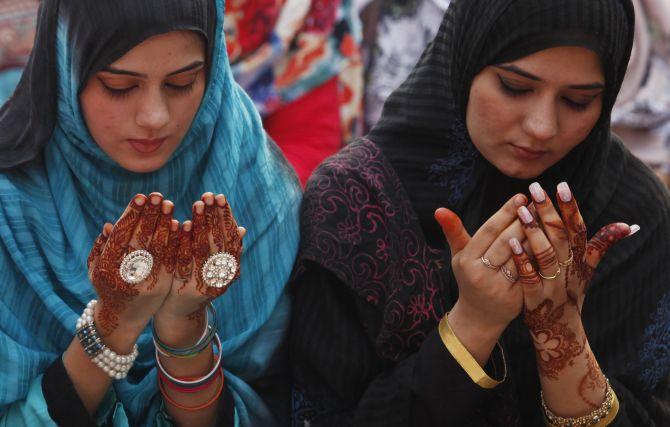 Drawing inspiration from the Supreme Court verdict permitting women of all age groups into the Sabarimala temple, a Kerala-based Muslim women's right group is gearing up to approach the apex court, demanding the entry of women in all mosques across the country.
NISA, a progressive women's forum, will soon move the top court.
The group will not just seek permission for women to offer prayers in the mosques, but also fight for appointing them as 'imams' (clerics).
The outfit, which has been campaigning for gender equality within Islam, also wants to curb the practices of polygamy and 'nikah halala', a community law that allows a Muslim woman to remarry her former husband only after marrying another person and consummating the wedding with him.
NISA president V P Zuhra told PTI that there were no records stating that the Holy Quran and Prophet Muhammad had opposed women entering mosques and offering prayers.
She also hailed the top court verdict lifting the ban on the menstruating women from offering worship at the Sabarimala Lord Ayyappa Temple as 'historic'.
"Like men, women also have the constitutional rights to offer worship according to their belief. So, like in Sabarimala, we want the entry of women in all mosques, cutting across denominations and establish their right to worship," the activist said.
Zuhra said discussions were on with the lawyer and a petition in this regard would be filed at the Supreme Court soon.
She said at present, women are allowed to offer prayers at mosques under Jamaat-e-Islami and Mujahid denominations, while they are barred from mosques under the predominant Sunni faction.
Even in the mosques where women are allowed, there are separate entrances and enclosures for worship for men and women, the NISA chief said.
"Our demand is to end this gender discrimination and allow Muslim women to pray in all mosques, cutting across denominations," said Zuhra, one of the earliest petitioners against triple talaq in the apex court.
She urged the orthodox section in the community to explain who had asked them to impose such restrictions on women which amount to violation of constitutional rights.
"There is no such gender discrimination to offer worship in Mecca, the holy city. The faithful, both men and women, together circle the Kaaba. Then why are the restrictions imposed on us in our mosques?" she said.
The rights campaigner said there were records showing that Prophet Muhammad himself had allowed his wife in the mosque.
"There are several women scholars in the Muslim community. But they are not allowed to be Imams and lead prayers in mosques. This practice also should be changed," she said.
NISA had approached the apex court recently, demanding equal property rights for Muslim women.
On September 28, a five-judge Constitution bench, headed by then chief justice Dipak Misra, lifted the ban on the entry of women of menstrual age into the shrine.
*****
Kerala HC dismisses Hindu outfit's plea for allowing Muslim women in mosques
The Kerala high court on Thursday dismissed a public interest litigation filed by a Hindu group seeking entry of Muslim women into mosques for offering prayers.
A division bench comprising Chief Justice Rishikesh Roy and Justice A K Jayasankaran Nambiar rejected the plea, observing that the petitioner was neither an aggrieved party nor were his rights affected.
Petitioner Swamy Dethathreya Sai Swaroop Nath, Kerala unit president of Akhila Bharatha Hindu Maha Sabha, had cited the recent Supreme Court order lifting the ban on entry of women of menstruating age into the Lord Ayyappa temple in Sabarimala and sought a direction to the Centre for issuing an order enabling Muslim women to offer prayers in mosques.
He had contended that Muslim women were being 'discriminated' as they were not allowed to enter and pray in the main prayer hall of mosques in violation of Articles 14 and 21 of the Constitution (equality before law and protection of life and personal liberty).
He also said Muslim women were allowed entry in Mecca.
The petitioner had also claimed imposition of a dress code like purdah (veil) for Muslim women would enable anti-social elements to misuse it and commit crimes.
This was an encroachment into the realm of personal liberty and social security, he had submitted.
On September 28, a five-judge constitution bench of the Supreme Court headed by Chief Justice Dipak Misra had lifted the ban on entry of women of menstrual age into the famous hill shrine of Lord Ayyappa.