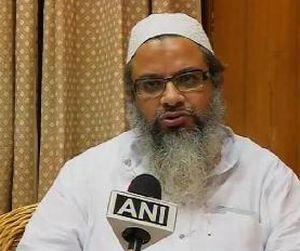 Prominent Muslim leader Maulana Mehmood Madani on Tuesday kicked up a controversy by asking "so-called" secular parties not to invoke Narendra Modi bogey to create fear among Muslim voters and woo them in a "negative manner".
The Bharatiya Janata Party latched on to these comments to allege that Congress believes in divide and rule which has been "recognised" by the people. Congress said it is not creating any scare about Modi and that it already exists.
Madani, leader of prominent Islamic organisation Jamiat-i-Ulema-e-Hind, said the "so-called" secular parties should not seek votes in a "negative manner" but through "positive" campaign by speaking about their agenda and spelling out the promises they have fulfilled and promises that remain unfulfilled.
"These so-called secular parties should explain what their governments in different states have done. What promises they have fulfilled and which ones still remain. They should seek votes on this basis and not on the basis of fear of somebody else (coming to power)," he told reporters.
He did not specify but was clearly referring to the contention by some parties that emergence of Modi would polarise the country and be detrimental to the interests of Muslims.
"What I am saying is that all the secular parties that have been in power, what have they done so far? And what will they do in future to provide justice, equal opportunities to the people?... I would ask the secular parties to seek votes on the basis of the promises fulfilled during their tenure and the promises they will make through election manifestos.
"Do not try to gain our votes in a negative way by showing the fear of a particular individual. Muslims won't be deterred by that," he said.
To a question on Modi, Madani said, "It is a totally different issue. What was Modi's agenda and on the basis of what he won the Gujarat election? Media has been observing a change in his approach during the run up to the general elections.... I won't say about him now. My focus is solely on secular parties' way of gaining Muslim votes."
BJP used these remarks to target Congress.
"It is now clear as to how Congress has been exploiting people for votes. It has been scaring the voters to get their votes. But people have gradually realised this," BJP Vice President Mukhtar Abbas Naqvi said.
He said people are worried about price rise and corruption and asserted that these are the primary issues.
Party spokesperon Meenakshi Lekhi said Madani's observation is correct as Congress has been using such tactics always.
Another BJP leader, Siddarth Nath Singh, alleged that Congress believes in divide and rule. "People know that Congress always believes in divide and rule. It creates a rift between Hindu and Muslim brothers."
Congress spokesman Meem Afzal said, "we have not created any fear. It has been there for long. It has a history of its own."
Communist Party of India-Marxist leader Sitaram Yechury said any type of communal polarisation from any quarter for political benefits is not good. "We need to rouse people against such things to protect our secular, democratic traditions," he said.
Image: Video grab showing Maulana Mehmood Madani
Courtesy: ANI