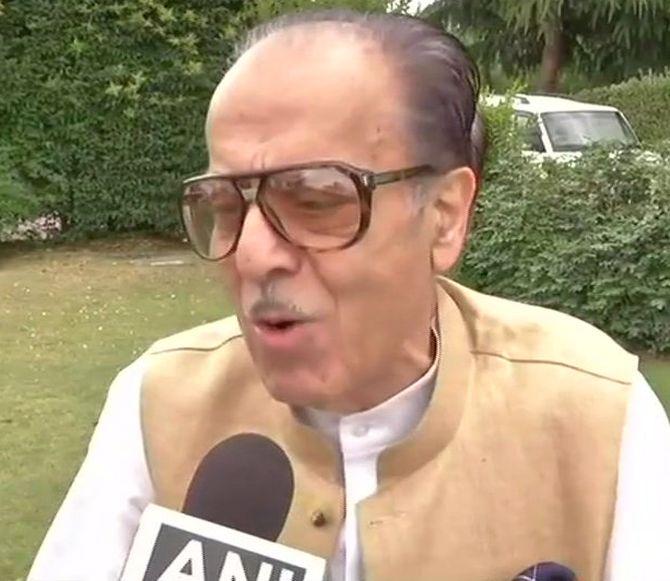 Senior Congress leader and former Union Minister Saifuddin Soz on Friday backed former Pakistan President Pervez Musharraf for his statement on Kashmir's independence.
"Musharraf said Kashmiris don't want to merge with Pakistan, their first choice is independence. The statement was true then and remains true now also. I say the same but I know that it is not possible," Soz said.
In his forthcoming book, 'Kashmir: Glimpses of History and the Story of Struggle', which will be launched next week, Soz said, "Musharraf had explained that if Kashmiris were given a chance to exercise their free will, they would prefer to be independent. In fact, this assessment of Musharraf seems to be correct even today."
The Bharatiya Janata Party has criticised Soz for his statement.
BJP's Rajya Sabha MP Subramanian Swamy said whoever wants to stay in India should abide by the Constitution, and if they like Musharraf, then, they should move to Pakistan.
"As a central minister, he (Saifuddin Soz) benefited from Centre's power when his daughter was kidnapped by JKLF. There's no use helping these people. Whoever wants to stay here can stay abiding by the Constitution, if they like Musharraf we'll give them a one-way ticket (to Pakistan)," Swamy said.
This is not the first time Soz had said something controversial.
Last year, he courted controversy by saying that he would have kept Hizbul Mujahideen terrorist Burhan Wani alive if it was in his power.
The Congress leader further said that he would have held a dialogue with Wani if he was not killed by security forces in 2016.
Earlier, Soz had blamed India for the unrest in valley and said the problem in Kashmir is created by India not by Pakistan.
Soz's claims on Kashmir 'cheap gimmick' to sell book: Congress
Senior Congress Saifuddin Soz was at the centre of a row over his comment supporting Pervez Musharraf that "independence" is the first choice of Kashmiris with the party dismissing it as a stray remark and "cheap gimmick" to promote his soon-to-be-released book.
The Bharatiya Janata Party also hit out at Soz and asked Rahul Gandhi if he would take action against him.
Congress chief spokesperson Randeep Surjewala rejected Soz's contention and said that Jammu and Kashmir is an integral part of India and will continue to be so and that is an incontrovertible and unquestionable truth.
"Congress party and every rightful citizen of India reject such content as a gimmick to sell a book that is yet to come into the market. There is incontrovertible unquestionable truth and that is J-K was an integral part of India, is an integral part of India, and will always remain an integral part of India," he told reporters.
The Congress leader said that many people will make many statements "either to sell book or to gain cheap publicity through friends of the media".
Soz, meanwhile, said the remarks made by him are his personal opinion and they have nothing to do with the party and should not be linked to politics. He, however, maintained that the Kashmir issue can be resolved not by using force but only through dialogue.
Holding the Modi government responsible for the current state of affairs in Jammu and Kashmir, he hoped that a new government can be formed if some people from the PDP switch sides and come together with the National Conference and the Congress.
Asked about what action the Congress would initiate against Soz, Surjewala said, "Pradesh Congress Committee of J&K will take an appropriate action and decide on the issue".
He cited statements of former finance minister Yashwant Sinha made in Srinagar and by BJP veteran L K Advani on Mohammed Ali Jinnah to hit out at the BJP.
"We have also seen in the past how BJP's the then deputy chief minister Nirmal Singh made a public statement saying that they would have perhaps told security forces to not take action if BJP-PDP government knew that Burhan Wani, dreaded terrorist, was inside," he said.
Surjewala also took a dig at Narendra Modi and Amit Shah, saying while the prime minister invited the ISI which is responsible for terrorist attacks to investigate the Pathankot air base attack by terrorists, the BJP chief expressed confidence in the ISI.
-- With inputs from PTI