In a sprawling slum in Tulsiwadi near Mumbai Central station lived a family of six has been decimated by the Mumbai terror attacks.
But people in the locality don't know their house. Ask a local cobbler, he says, "They stay somewhere near the mosque."
A little further we stop to ask a taxi driver if he had any idea about this family's home, "They are Biharis. I don't know anything more than that."
When we finally manage to locate the hutment, we are met by a man in lungi and beard. He says his name is Maualana Mohammad Jamshed Aalam, a friend of the family. "Yes you are at the right place. It is here where Ilyas Ansari and his family lived. They were shot dead by terrorists. They were not from Bihar but from Jharkhand."
"Ilyas was from my village. He had gone to CST station to drop his relatives when terrorists opened fire. He died on the spot and so did his sister, brother-in-law and three of his nephews."
Besides Ilyas Ansari, the others who died were Mustafa, Sarfaraz, Raqeela, Abbas and Arif Ansari.  Another two nephews Afroze and Mehboob were injured badly.
Ilyas was living alone in Mumbai and used to work as a cook at Aalishan hotel in Nagpada.
His family members had come from Jharkhand to visit him and see the city.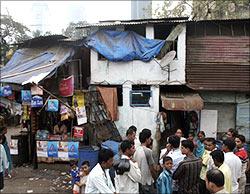 Says Salma Anwar Noorani, Ilyas's neighbour, "He was a very nice human being. He had taken his relatives to Chowpatty beach and many other places. They were happy to see Mumbai city but today I cannot believe that they are dead."
She says, "Ilyas was a very hard working man. He used to work non-stop. Before he left for CST station I had met. I just can't believe he is no more."
Another family friend, Mohmmad Wasim Shaikh, says, "Ilyas daughter was to get married in January. He was working day and night to collect money. He had asked for a loan of Rs 5,000 from me. Unfortunately, he is no more. There is no way of knowing what is going on in his family in Jharkhand and how they are taking this news."
Ilyas's brother, Israil, who too was at CST station and had gone to drop his relatives in his taxi, cannot believe that his entire family has been wiped out.
 "I had gone to take my platform ticket when the terrorist struck. They were ruthless and killed almost everyone who came in their way. I heard gunfire when I went to buy a platform ticket. They fired and just vanished. I didn't see any of them," recalls Israil.
"After they left, I went to the place where I had left my family. I could not believe my eyes at the sight. It was very shocking," added Israil.
He also said that he had not got any compensation. The government had promised Rs 50,000 to the next of kin to each of the dead.
"I have no idea why they have not given us the money when they have started distributing it to other people," added Israil.
Photographs: Uday Kuckian