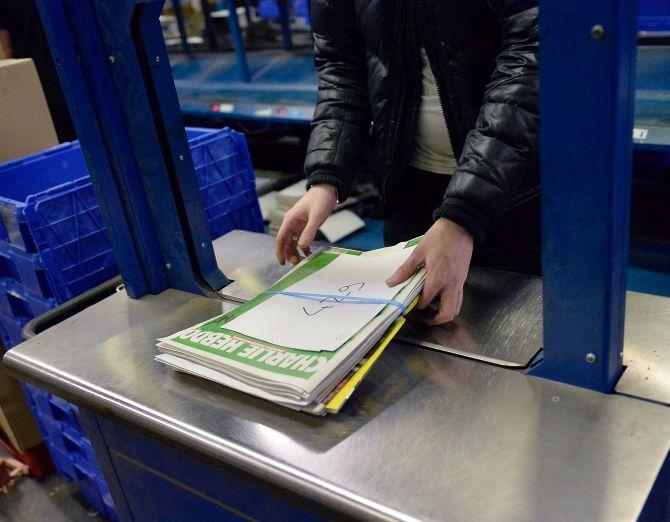 After the editor of an Urdu daily in Mumbai was booked for reprinting the cover of the French magazine Charlie Hebdo with the controversial cartoon of Prophet Mohammed, now a newspaper vendor has been booked in Mumbai for selling the copy of the newspaper.
The JJ Marg police in Mumbai has booked a newspaper vendor for selling the January 17 issue of the Urdu daily Avadhnama, which carried a photo of the cover of the French magazine Charlie Hebdo with the controversial cartoon, reports mid-day.
Senior police inspector Anil Madvi of JJ Marg police station told mid-day, 'A case has been registered against the vendor based on a complaint by Riyaz Chale (committee member of a masjid in South Mumbai). We have registered the case under Section 295 (injuring or defiling a place of worship with intent to insult the religion of any class) of the Indian Penal Code. We have not made any arrests and further investigations are on.'
According to the newspaper, the complainant has stated that the vendor knew and understood Urdu and knew about the article and, thus, should have refrained from selling the newspaper.
Additional commissioner of police (south region), Krishna Prakash, too confirmed this. 'The complainant has alleged that despite knowing the language and the fact that the circulation of the said newspaper would hurt religious sentiments, the vendor went ahead and sold the newspaper,' he has been quoted as saying.
When asked whether the vendor could be held accountable for the news content, Prakash said, 'The matter is being investigated and we have not arrested anyone in the case so far.'
Meanwhile, the sessions court has extended the bail of Shireen Dalvi, the editor of Avadhnama, even as she wrote a blog to admit her "mistake" and seek "forgiveness", while claiming that she was being "hounded and harassed".
Image: A copy of the 'survival' edition of Charlie Hebdo being sold in Paris, France. Photograph: Aurelien Meunier/Getty Images