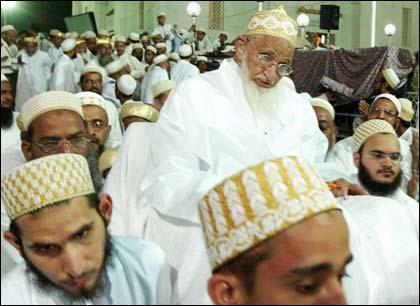 At least 18 persons were killed in a stampede in South Mumbai area in the wee hours on Saturday, officials said.
The incident occurred after 1 am in the Malabar Hill area where an overwhelming crowd had gathered to pay last respect to the departed spiritual leader of Dawoodi Bohra community, Dr Syedna Mohammed Burhanuddin, a civic official told PTI.
The Syedna passed away in Mumbai on Friday at 102. His followers had started thronging his residence at the Hill after learning of his death. Over 40 people were injured in the stampede, the sources said. The injured have been admitted to the SaifeeHospital. The Syedna was to celebrate his 103rd birthday in a few weeks, a spokesperson of the Bohra community said.
The 52nd Dai al-Mutlaq of the worldwide Dawoodi Bohra community, Syedna expired at his Mumbai residence at Saifee Mahal.
Born in Surat, the leader was the eldest son of Syedna Taher Saifuddin. He succeeded his father upon his death in 1965. He was credited with transforming Dawoodi Bohras into a vibrant community.
Bohras thronged to the Syednas sermons. Dawoodi Bohra is a sect of Shia Muslims spread all over the world. One of the key principles of the sect is "patriotism as part of the faith."
He was honoured with highest civilian titles such as the Star of Jordan and Order of the Nile by the respective governments of Jordan and Egypt.
Syedna was conferred Honourary Doctorates for his efforts in social and educational development by renowned institutes like Al-Azhar University, Cairo, Aligarh Muslim University and University of Karachi.
Image:The late Dr Syedna Mohammed Burhanuddin, who passed away on Friday.
Photograph: Sam Panthaky/AFP/Getty Images