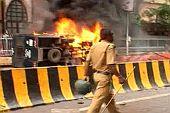 The Mumbai police were put in a spot over a poem published in its in-house journal terming last year's Azad Maidan protesters as "snakes" and "traitors" whose hands should have been "chopped off", following which it has assured to issue an unconditional apology.
A complaint in this regard has been filed by Ameen Mustafa Idrisi, who runs an NGO Muslim-e-Hind, and Nazar Mohammed Siddique, one of the arrested accused in Azad Maidan violence case and now out on bail, with the state's home department, Mumbai police comissioner's office and Azad Maidan police station.

The complainants have sought registration of an FIR against Commissioner Satyapal Singh, Joint Police Commissioner (administration) Hemant Nagarale, and woman inspector Sujata Patil, who penned the verse, publisher and other unnamed "conspirators".
"Hausla buland tha, izzat lut rahi thi...himmat ki gaddaron ne Amar Jyoti ko haath lagane ki, kaat dete haath unke toh faryad kisi ki bhi na hoti...Saanp ko doodh pila kar, baat kare hain hum bhai-chare ki. (Their morale was high, (women) were being dishonoured. The traitors had the audacity to touch Amar Jawan Jyoti. Had we cut off their hands nobody would have complained. We feed milk to the snakes and then talk of harmony," read the poem.

Patil further suggested that the cops should have played "goliyon ki holi".

The poem titled 'Azad Maidan' by Patil, an inspector in traffic police posted at Matunga, was published recently in the police department's house journal 'Samvad'.
The complainants have sought the guilty to be booked under sections 295(A)(Maliciously insulting the religion), 298 (uttering or putting such words which insults religion), 504 (insult to provoke breach of peace, 505 (false statement), 120(B)(criminal conspiracy) and 34 (common intention) of the Indian Penal Code.
Reached for his comments, Hemant Nagarale, one of those against whom action has been sought, told PTI an unconditional apology would be issued.
"Sujata Patil has already apologised in writing. She has said she did not intend to hurt anybody's religious sentiments or any religion. The written unconditional apology would be published in the next edition of Samwad," he said.
On August 11 last year, a demonstration called to protest alleged atrocities on Muslims in Assam and Myanmar had turned violent resulting in the death of two people, injuries to scores, including women police personnel, many of whom were also molested, and massive destruction of property.