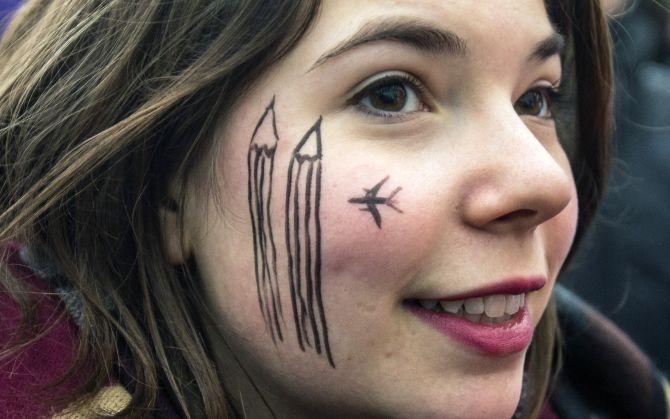 A woman wears a cartoon painting on the face during a silent protest for the victims of the shooting at the Paris offices of weekly newspaper Charlie Hebdo, at the Pariser Platz square in Berlin. Photograph: Hannibal Hanschke/Reuters
The editor of a local Urdu daily has been arrested on charges of reprinting a controversial cartoon of Prophet Mohammed originally published by French satirical weekly magazine Charlie Hebdo, which was attacked by terrorists in Paris early this month.
"Shireen Dalvi, who is the editor of Awadhnama, was arrested on Wednesday and produced before a court. The court has granted her bail. She was held on charges of hurting religious sentiments by reprinting the controversial cartoon of Prophet Mohammed," said S M Mundhe, Senior Inspector at Mumbra police station.
Dalvi's newspaper had in its January 17 edition, carried the image printed on the Charlie Hebdo cover issue.
Subsequently, a man identified as Nushrat Ali, drew the attention of Mumbra police complaining that Awadhnama had published the controversial image which hurt the religious sentiments here and create enmity among different communities.
"After inquiring into the matter, we registered an FIR against Dalvi last week for hurting the religious sentiments of people. Dalvi was held yesterday and granted bail," Mundhe said.