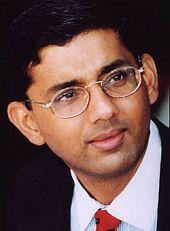 Dinesh D'Souza, the Mumbai-born controversial conservative scholar, has been appointed president of The King's College in New York City -- a move that has surprised many high education observers because D'Souza, a Roman Catholic, will now take over the helm of the historically evangelical Protestant institution.
King's College, a liberal arts college, which operates out of rented space in the Empire State Building and has about 450 students who are essentially educated and trained to be evangelists or as The Christian Post says "to bring competitive Christian ideas to positions of leadership in the institutions of government, civil society, media, law, education, business, the arts, and the church," describes itself as a nondenominational school whose "roots are in the Protestant evangelical tradition."

In 1994, beset by financial woes, King's closed and declared bankruptcy but reopened in 1998 under Campus Crusade for Christ's (CCC) ownership.
Forty-nine-year-old D'Souza's arrival to King's College coincides with the school's transition into becoming an independent entity once again after 12 years of support from CCC.
CCC President Steve Douglas, in an announcement that accompanied D'Souza's appointment, said, "With full ownership and new leadership, The King's College has the opportunity to focus exclusively on its mission of educating biblically-based thinkers poised to produce change throughout society."
"We are proud to be a part of the history of The King's College and to have played a role in helping it become what it is today," he said.
D'Souza, who will become the school's fifth president, will succeed J Stanley Oakes who announced last December that he was retiring, and take over the reins from interim president Andy Mills who said, "We are thrilled to welcome D'Souza as the new president."
But the fact that D'Souza is an avowed Christian apologist has prompted questions as to how Catholic he is and how Protestant the Campus Crusade for Christ-affiliated school is.
Obviously in an effort to defuse the swirling questions and rumours that the appointment of D'Souza, considered one of the most influential conservative authors and speakers with access to loads of funding from foundation grants and fellowships, could boost the school's standing, the new president himself addressed the dichotomy of a Catholic heading a Protestant evangelical institution in an interview with Christianity Today.
He said, "I'm quite happy to acknowledge my Catholic background; at the same time, I'm very comfortable with Reformation theology. I'm comfortable with the evangelical world. In a sense, I'm part of it."
D'Souza said, "I do not describe myself as Catholic today. But I don't want to renounce it either because it's an important part of my background. I'm an American citizen, but I wouldn't reject the Indian label because it's part of my heritage. I say I have a Catholic origin or background. I say I'm a nondenominational Christian, and I'm comfortable with born-again."
According to him, his views were aligned with the Apostle's Creed and C S Lewis's Mere Christianity.
D'Souza argued that "a lot of times, Christians spend a lot of time in intramural type debates and squabbles: Are you Catholic or Protestant; if you are Protestant, what type are you; are you pre-millennial; what position do you take on Genesis 1?"

"I would comfortably describe myself as a born-again Christian, but I don't feel it is necessary to renounce anything," he said, and added: "I am not doing Catholic apologetics, that's for sure."