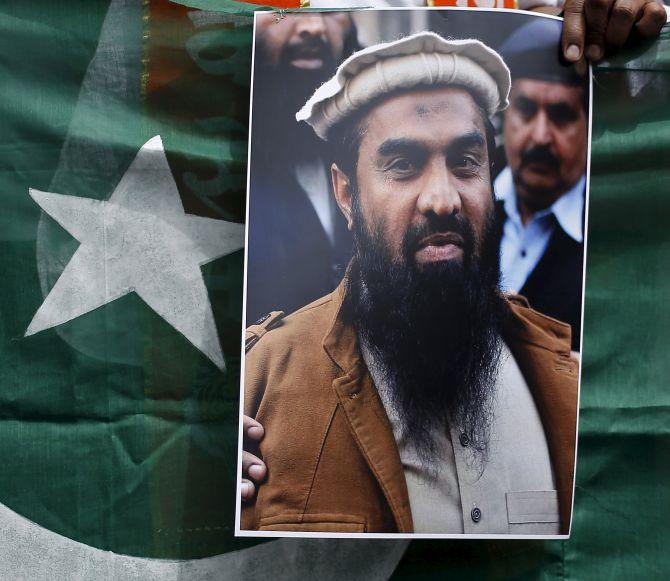 A protest against the release of Zaki-ur-Rehman Lakhvi in Mumbai. Photograph: Anindito Mukherje/Reuters

Pakistan's Punjab government on Tuesday challenged the Lahore high court's decision to suspend the detention of Lashkar-e-Tayiba operations commander and 2008 Mumbai attack mastermind Zaki-ur-Rehman Lakhvi in the supreme court, saying his release has created problems for it.
The Punjab government in its petition pleaded the apex court that the high court had suspended the detention of Mumbai attack case accused Lakhvi under the maintenance of public ordinance despite seeing "sensitive documents" against him.
The government said the release of 55-year-old Lakhvi had created problems for it.
"Besides, there are chances that the investigation into the Mumbai attack case may also be affected because of the release of Lakhvi," the government argued in the petition. It requested the apex court to suspend the order of the high court and restore the detention of Lakhvi under the security act. The SC office will fix the date of hearing.
Lahore HC Justice Muhammad Anwarul Haq on April 9 had suspended Lakhvi's detention as the government failed to present "sensitive documents" against him in the court.
The government's counsel presented "sensitive reports" prepared by intelligence agencies about the activities of Lakhvi but the judge expressed dissatisfaction over it observing "the reasons cited by the government for the petitioner's detention were not enough".
On April 10, Lakhvi was released from Adiala Jail Rawalpindi after about six years of his arrest in the Mumbai attack case.
The government managed to keep him behind the bars under the security act for nearly four months since the trial court granted him bail on December 14, 2014.
Pakistan faced strong criticism from India over the release of Lakhvi. India questioned Pakistan's commitment to fight against terrorism.
Lakhvi and six others have been charged with planning and executing the 2008 Mumbai attack that killed 166 people and wounding over 300.
© Copyright 2020 PTI. All rights reserved. Republication or redistribution of PTI content, including by framing or similar means, is expressly prohibited without the prior written consent.