Saeed's release has virtually 'boosted up the morale' of the six suspects facing the trial in Pakistan for the last eight years, believe Saeed's supporters. M Zulqernain reports from Lahore.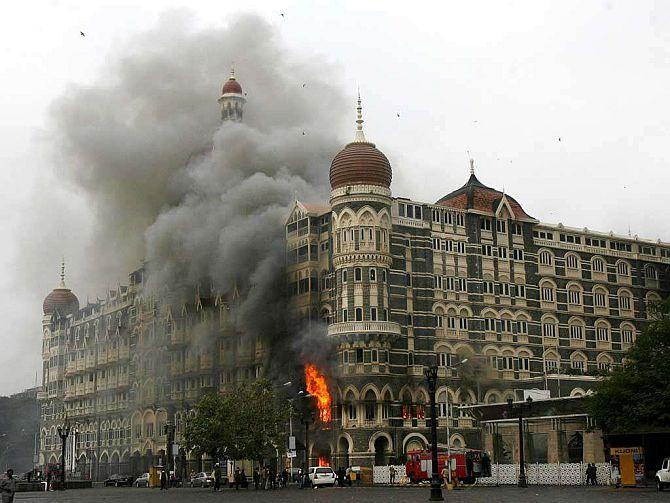 Nine years have passed since 10 Lashkar-e-Tayiba terrorists killed 166 people in Mumbai, but none of the suspects have been punished, indicating that this case has never been a priority for Pakistan, especially after the release of the attack's mastermind Hafiz Saeed, observers say.
The LeT terrorists had sailed into Mumbai from Karachi and carried out coordinated attacks, killing 166 people and injuring over 300 in November 2008.
"The Mumbai attack case is being tried in an anti-terrorism court in Islamabad since 2009. There has hardly been any such case in any ATC in country taking more than eight years and still pending. ATC is meant for speedy trial but in this case the ATC is acting like that of sessions court where a case is usually not decided in years," a senior lawyer said.
"It appears that the state is not in hurry to decide this case since the matter is related to its arch-rival India," the lawyer told PTI on condition of anonymity, two days after Pakistan released Saeed, the LeT founder ahead of the 9th anniversary of the 26/11 attack.
He said had the authorities concerned here been serious this case would have been decided years ago.
Pakistan has justified the release of Saeed, saying that courts, pursuant to their constitutional duty, were determined to uphold rule of law and due process for all citizens.
Advocate Supreme Court Mobeen Ahmad Qazi told PTI that since this case was being tried in ATC it should have been decided much earlier.
"For that long (eight years) evidence is destroyed in such cases. I wonder why Pakistan is taking too long to decide this criminal case. If India does not provide concrete evidence it should decide the case forthwith and give benefit of doubt to the suspects and acquit them," Qazi said, adding it appears that Pakistan is facing 'international pressure' to keep the Mumbai attack suspects in jail 'without evidence'.
"The state is responsible for the protection of the rights of its citizens. Justice delayed is justice denied," he added.
Saeed's release has virtually 'boosted up the morale' of the six suspects facing the trial in Pakistan for the last eight years, believe Saeed's supporters.
The banned Jamaat-ud-Dawah head, who carries a bounty of $10 million announced by the US for his role in terror activities, was released from house arrest on Friday.
The fire-brand cleric was under detention since January this year.
The JuD is believed to be the front organisation for the LeT which is responsible for carrying out the Mumbai attack.
According to a JuD activist, the six suspects feel confident and one day they will walk out free from jail as nothing has been established against them as yet like their leader (Saeed) in the Mumbai attack case.
He thinks that the suspects -- Abdul Wajid, Mazhar Iqbal, Hamad Amin Sadiq, Shahid Jamil Riaz, Jamil Ahmed and Younis Anjum -- who have been facing charges of abetment to murder, attempted murder, planning and executing the Mumbai attack since 2009, would have been acquitted had their trial been put on fast track. They are kept in Adiala Jail Rawalpindi.
The seventh suspect -- LeT operations commander Zakiur Rehman Lakhvi -- got his freedom over two years ago after he secured bail. He has been living in undisclosed location since then.
There are reports that Lakhvi had come to JuD headquarters in Lahore to greet Saeed on his release from the 10-month detention under terrorism and public safety laws.
The JuD activist, however, denied the duo's meeting in Lahore.
There was also the eighth suspect, LeT militant Sufayan Zafar, who was arrested last year and separately charged for his involvement in 26/11 attack has also been freed on bail.
Zafar was accused of providing Rs 3.98 million to co-accused Shahid Jamil Riaz prior to the Mumbai attack.
He also deposited Rs 14,800 to the bank account of his brother (another suspect in the case). He was hiding after being declared proclaimed offender in the Mumbai case since 2009.
He was arrested in August last year from his hideout in Kyber-Pakhtaunkhawa province. Zafar was among 21 other (absconding) suspects wanted in this high-profile case.
The Mumbai attacks' 9th anniversary is being observed on Sunday but still this case never seems to be reaching its logical conclusion.
India has been demanding Pakistan not only to arrest Saeed and try him in the Mumbai attack case being the mastermind but also punish all those involved in this carnage.
India has presented a dossier about Saeed's involvement in the Mumbai attack but Pakistan insists 'solid evidence' against him. Pakistan has also asked India to send its 24 witnesses here to record their statements.
"The Anti-Terrorism Court Islamabad has recorded the statements of 70 Pakistani witnesses in the case. Now it is up to India to send its 24 witnesses for early disposal of the case," chief prosecutor in the case Chaudhry Azhar told PTI.
A number of Pakistani witnesses both official and private testified and provided evidence against the seven accused... but still the Pakistani authorities have been insisting on sending Indian witnesses to Lahore for reaching a verdict.
There are irrefutable witnesses against them. For example one of the seven accused -- Shahid Jamil Riaz -- had been identified by witnesses that he (Riaz) had bought inflatable boats used by the terrorists involved in the attack.
Riaz and 10 other people had bought 11 inflatable boats, according to the witnesses.
The witnesses identified 10 men, including Amjad Khan and Atiqur Rehman, who were involved in planning and executing the Mumbai attacks. These men were earlier declared 'proclaimed offenders' or fugitives by the anti-terrorism court.
One witness told the court that Amjad Khan had obtained from him a 'port clearance certificate' for Al-Hussaini, a fishing boat used by the terrorists. Amjad Khan was also involved in purchasing the inflatable
boats. Khan, the fugitive identified by the witnesses, is a shadowy LeT organiser and financier from Karachi who figured in a majority of dossiers provided to Pakistan by India.
Khan, who hails from Multan, played a key role in arranging and providing funds to the ten LeT attackers. He is one of 20 suspects in the Mumbai attacks who are yet to be traced by Pakistani investigators.
These 20 suspects were named in a chargesheet filed in the anti-terrorism court in 2009. They were all accused of playing a key role in facilitating the Mumbai attacks.
No effort has been made so far by the Pakistani law enforcement agencies to track down these fugitives in the case, showing Pakistan is keen to dump the case.
Nine of the attackers were killed by police while lone survivor Ajmal Kasab was caught and hanged after trial.
Soon after his release on Friday, Saeed vowed to mobilise people across Pakistan for the 'Kashmir cause'.
It is not clear how many of the fugitives are still in contact with the JuD/LeT leadership. As Saeed is a free man it will be easy for him to execute some of his plans more freely than from the house arrest.
IMAGE: The Taj Hotel during the attacks. Photograph: Arko Dutta/Reuters