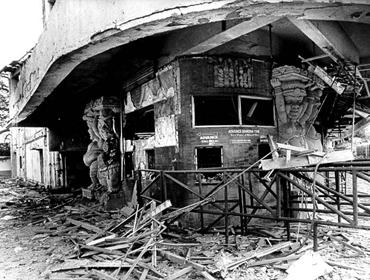 Eleven convicts of the 1993 Mumbai serial blasts case, who were out on bail, on Wednesday surrendered before the designated Terrorist and Disruptive Activities court here following the dismissal of their appeals by the Supreme Court.
Special TADA Judge G A Sanap directed that they be taken to the Central Prison at Arthur Road in central Mumbai. They would be transferred to various Central Prisons in the state.
The surrendered convicts include four retired police constables, a customs official and others who were involved in arranging the landing of RDX, arms and ammunition at Shekhadi coast in Raigad district. The consignment was brought into the city and used in the blasts.
Customs official Sadashiv Talwadekar was sentenced to eight years' imprisonment; he has served over six years in jail so far. Talwadekar was accused of taking bribe and allowing the landing of contraband at Shekhadi, allegedly sent by absconding accused Tiger Memon from Pakistan.
The four police constables who surrendered on Wednesday are: Ashok Maneshwar, S Y Pashilkar, P M Mahadik and R D Mali. All the four face imprisonment of six years; they had undergone over four years' jail term before they were released on bail.
The remaining six convicts who surrendered are: Khalid Ahmed Sayed Ali Nazir, 65, Sujjad Alam, Abdullah Ibrahim Surti, Faki Ali Faki Ahmed,70, Janardhan Pandurang Gambas and Sayed Ismail Ibrahim Kadri. They face jail terms ranging from five to seven years.
All the 11 convicts seemed calm. Some of them told mediapersons that they would accept the Supreme Court's verdict. "We knew we were not going to get any reprieve and hence we were all prepared to go back to jail," Nazir said.
The remaining convicts including Zaibunissa Kazi, whose application seeking further time to surrender was rejected by the Supreme Court, are expected to appear before the TADA court on Thursday.