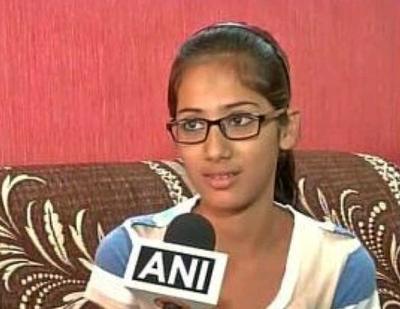 A 12-year-old Muslim girl has emerged topper at a contest on Bhagwad Gita in Mumbai.
Mariyam Asif Siddiqui who studies in Class 6 in a school at Mira Road near Mumbai won the contest from among 4,500 students who appeared for the competition.
She received the first prize in an inter-school competition for explaining the teachings of the holy book.
"We are delighted. She prepared a whole month for the contest," her father Asif said.
The development comes as a whiff of fresh air at a time when politicians' comments about Gita created controversy.
Mariyam studies in Cosmopolitan High School at Mira Road and participated in "Shrimad Bhagwad Gita Champion League" organised by ISKCON International Society last month with an objective to spread teachings of the holy book.
Around 195 schools had participated in this competition. Of them 105 were private and 90 were municipal schools.
Mariyam said she learned from Bhagwad Gita that humanity is the biggest religion in this world.
"It was very interesting to read Bhagwad Gita as I have got a lot of information about life from it. The holy book has taught me the golden rules of life. It says that though there are many religions but humanity is the biggest religion among all," Mariyam said.
The English version of the holy book was given to students for a month for preparation purpose. A teacher was also appointed to help students understand the book in detail. After a month, a written examination was held with 100 questions.
Asif said he is happy and a proud father as his daughter has shown a keen interest in reading a holy book of other religion.
"I have told children to respect every religion as they show us the right path," he said.
© Copyright 2022 PTI. All rights reserved. Republication or redistribution of PTI content, including by framing or similar means, is expressly prohibited without the prior written consent.