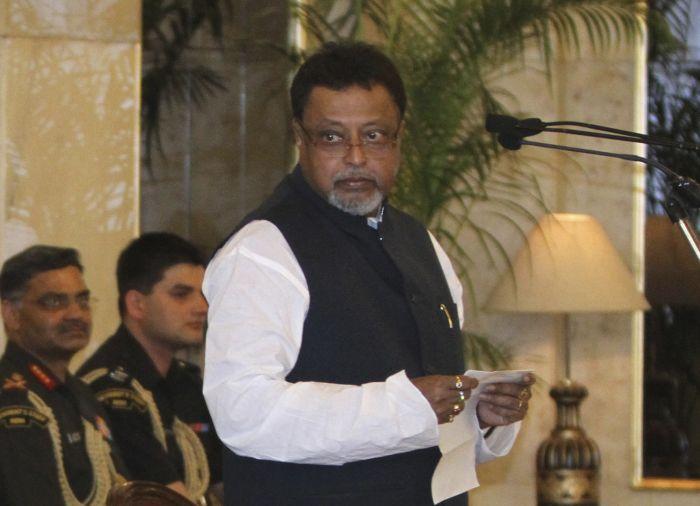 Trinamool Congress MP Mukul Roy said on Monday he would resign from the party after Durga Puja, prompting the TMC to suspend him for six years for "anti-party activities".
The Trinamool Congress, led by West Bengal Chief Minister Mamata Banerjee, had last week censured him for allegedly hobnobbing with the Bharatiya Janata Party leaders and said it was keeping a close watch on him.
"I was the first signatory when the TMC was founded on December 17, 1997. I am announcing with a heavy heart and pain that I will resign from the party's working committee today. I will resign as an MP as well as from the party's primary membership after Durga Puja," Roy, a TMC Rajya Sabha member, told a press conference.
Shortly after Roy's statement, TMC secretary general Partha Chatterjee said that he has been suspended from the party for six years for "anti-party activities".
"He has been trying to weaken the party for quite some time. The party's disciplinary committee has discussed the issue and recommended punishment for him to TMC supremo Mamata Banerjee," he told reporters.
Asked whether he would join the BJP, Roy said, "Whatever I have to say I will say it after the Durga Puja. The people of West Bengal don't like political controversies during the Durga Puja."
BJP national general secretary Kailash Vijayvargiya said if Roy proposes to join the party, a decision will be taken after discussions with the BJP's West Bengal leadership.
"Mukul Roy is free to take any decision. We have not got any proposal from him yet. If any proposal comes, we will discuss with the state leaders before taking any decision on him," said Vijayvargiya, who the BJP's West Bengal in-charge.
Roy, whose relationship with the TMC leadership had of late been strained, said he would give an explanation on why he was leaving the party and why he was "forced to do so" after the puja was over.
TMC leader Chatterjee said, "If he (Roy) wants to leave, why isn't he leaving now? What is stopping him?"
He also said that the party was united and "we have full faith in Mamata Banerjee's leadership".
He said, "Nobody knew Roy even in his locality. Mamata Banerjee had made him an MP and even the railways minister… Roy, who bowed before the central agencies, tried to damage the party keeping in view his own interests."
BJP leader Siddharth Nath Singh, a former in-charge of the party in West Bengal and an Uttar Pradesh minister, said, "I have no knowledge about Mukul Roy joining the party."
Singh, however, said that TMC leaders will quit the party one by one.
West Bengal BJP president Dilip Ghosh said, "He (Roy) is a big leader. We will think if he approaches us."
Once the second-in-command in the TMC after Mamata Banerjee, Roy was absent from an event to unveil the Durga Puja edition of the TMC mouthpiece 'Jago Bangla' on September 19.
Banerjee and the entire TMC top brass, barring Roy, was present at the event.
He was recently removed as the TMC vice president after the party decided to revamp the party structure.
He was earlier removed as the party's in-charge of Tripura where the TMC was steadily making inroads till its members switched over to the BJP earlier this year.
Photograph: B Mathur/Reuters