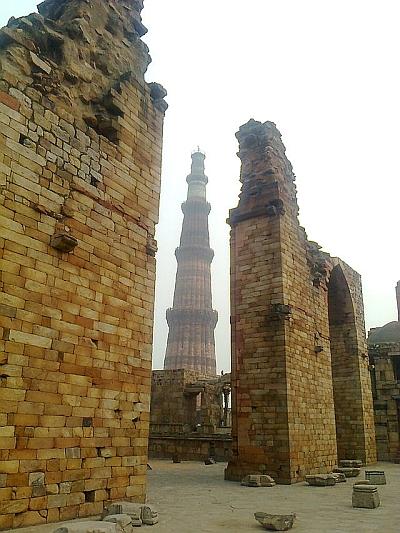 Earning the coveted UNESCO tag would not only have ramped up revenues through enhanced tourism but also helped in keeping monuments and heritage buildings in Delhi free of encroachment, say experts.
"I think we have lost a great opportunity. The world heritage tag would have propped the city right on the global map, increased footfall and thus led to an increase in revenues.
"But, it also would have lent a strong platform for safeguarding of our heritage from encroachment," says Member of Heritage Committee (joint) of the three municipal corporations, Vartika Sharma.
Sharma, who has been associated with the nomination process, right from its conception days, felt "disappointed and disheartened", when she learnt that Delhi was no longer in the race for the prestigious recognition.
The Centre has decided to pull back the UNESCO nomination, saying the tag would have put a "lot of restrictions" on carrying out infrastructure work in the national capital.
All civic and urban bodies -- the North, South and East municipal corporations (erstwhile unified MCD), New Delhi Municipal Council, Delhi Development Authority-- and the Indian National Trust for Art and Cultural Heritage held marathon meetings since 2008 to define the ultimate content and form of the nomination.
INTACH Delhi Convener A G K Menon says, "Our policy-makers apparently believe that heritage is anti-development."
"But I ask, have Rome, Paris and Edinburgh become less prosperous after becoming heritage cities. Has the development stopped in those places? This decision to remove it from the reckoning at the last moment is an anomaly," he said.
Besides it wasn't as if "we are asking the whole Delhi to be preserved", he adds.
"The nominated zones constitute 1.5 per cent of this historic city and UNESCO tag does not become a burden or an impediment, but a wealth generator, only if they could see," he says.
According to South Delhi Mayor Subhash Arya, Delhi winning the heritage status would have meant "more power in our hands to enforce conservation, preservation and anti-encroachment laws for heritage".
"I agree there are many heritage buildings and spaces in south Delhi, like Chirag Delhi, Mehrauli, Badarpur among others, which have been encroached upon. Not that we don't have laws in place to tackle them but this tag would have meant pressure exerted internationally," he says.
The Mayor, however, says, he was not in a position to pass a judgement on the Centre's decision, "but a heritage tag would not have hurt us".
DDA Vice-Chairman Balvinder Kumar says "the urban body was involved in delineating the heritage zone in the city for the nomination process".
The two areas listed in the final dossier were Shahjahanabad in old Delhi which has the Mughal-era heritage and Lutyens' Bungalow Zone (LBZ) in New Delhi, part of the new imperial capital designed by Sir Edwin Landseer Lutyens and Sir Herbert Baker after the 1911 Delhi Durbar.
"I believe the government must have weighed in the pros and cons before taking the final decision," he says.
"But, heritage places like old Delhi and Lutyens' Delhi lend a special character to our city, coupling architectural beauty with lush greenery, and, so, it is a good idea to preserve them," Kumar told PTI.
"Many times, we receive request to change land use of the Lutyens' Zone, but we have not allowed that so far, to maintain the character of the city, that those colonial-era bungalows offer," he adds.
Incidentally in January, the Centre launched Rs 500-crore project HRIDAY (Heritage Development and Augmentation Yojana) for 12 cities, aimed at preserving and rejuvenating their rich cultural heritage.
The 12 cities selected for the scheme are Ajmer, Amritsar, Amravati, Badami, Dwarka, Gaya, Warangal, Puri, Kanchipuram, Mathura, Varanasi, and Vellankanni.
"On one hand, the government talks of project HRIDAY and on the other, they do not want to leave 1.5 per cent area of Delhi in the name of heritage. How sad is that," a well-known heritage expert,says,on the condition of anonymity.
"I mean people get enamoured with history when they travel to Europe and America, but the government, it appears doesn't want their own people back home to take pride in their heritage," he says.
Menon also laments that "for the government, British history is not heritage. So, why bother preserving it."
Heritage activist Kanika Singh, who runs Delhi Heritage Walk in the city says, "It is not a good move at all. Heritage can very well be part of development."
The Ministry of Culture during the UPA regime had sent the initial nomination to the UNESCO in 2012 and the final "voluminous" dossier for it, prepared INTACH was sent in January last year.
A team from the world body visited the city in October to examine the heritage sites mentioned in the dossier and the decision on the nomination was expected sometime this June.
Image Courtesy: SaxenaSwati/Wikimedia Commons
© Copyright 2022 PTI. All rights reserved. Republication or redistribution of PTI content, including by framing or similar means, is expressly prohibited without the prior written consent.