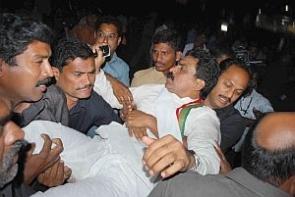 Seemandhra Member of Parliament L Rajagopal, who had created a ruckus by splashing pepper spray in Lok Sabha, on Tuesday resigned from Parliament.
He also announced that he was quitting politics as the people of Andhra "have been divided" by the passage of the Telangana Bill in Lok Sabha.
Rajagopal, an expelled member of the Congress, said he has sent his resignation to the Lok Sabha Secretariat and he would meet Speaker Meira Kumar on Wednesday to press for its acceptance.
The Vijayawada MP's action came within hours after the controversial bill was passed by the Lok Sabha.
The Speaker had suspended 16 Seemandhra MPs, including Rajagopal who opposes the creation of Telangana, after the pepper spray incident on February 13.
They could not attend the House on Tuesday.
"I submit my resignation from Lok Sabha. I am quitting politics too. I am hurt as the Telugu-speaking people are divided now. It is a sad day. I have lost interest in politics," said Rajagopal.
The industrialist-politician said he had announced way back in 2009, at the peak of the pro-Telangana agitation, that he would quit politics if a separate state is formed.
"The formation of separate Telangana is not in the interest of Telugu-speaking people and the nation as a whole," he said.
He said he would work for the unity of Telugu-speaking people.
"I have formed an NGO Rajagopal Foundation. I will now work for the unity of Telugu-speaking people," Rajagopal said.
Asked whether he regrets the pepper spray attack in the House, which had attracted widespread condemnation, he said, "I did everything for the unity of Andhra Pradesh".
His resignation comes at a time when the Committee of Privileges of Lok Sabha, which has got punitive powers, has been asked by the Speaker to go into the incident.
Unprecedented pandemonium had broken out in the House when Rajagopal, who is opposed to the division of Andhra Pradesh, brought a canister from which he sprayed pepper.
All political parties have demanded action against him.
The government has already said it would not oppose whatever decision the Speaker takes in this regard.
Image: L Rajagopal at a protest against the bifurcation of Andhra Pradesh