Orders prohibiting gathering of people were clamped down in Mhow tehsil of Indore district on Thursday after a 25-year-old tribal man died in police firing during a protest over the death of a young woman, officials said.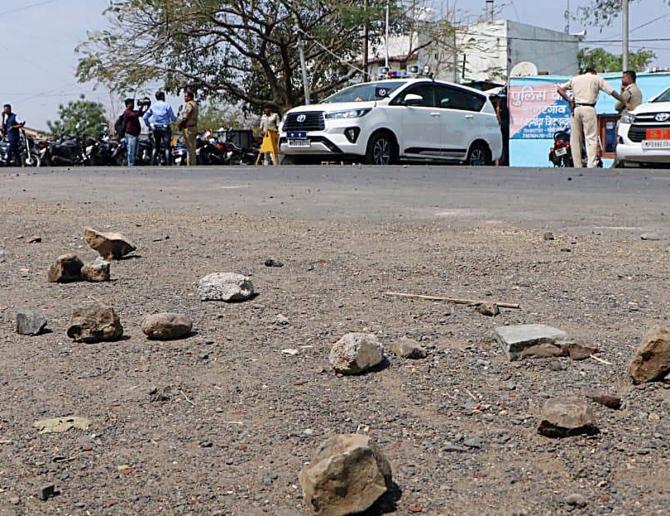 Madhya Pradesh Chief Minister Shivraj Singh Chouhan has ordered an inquiry by a magistrate into the police firing at Dongargaon outpost which took place late Wednesday evening, Home Minister Narottam Mishra told reporters in Bhopal.
Police opened firing in self-defence, Mishra said, adding that on the instruction of the chief minister, financial help of Rs 10 lakh was given immediately to the family members of Bherulal, the deceased.
Prohibitory orders under Section 144 of the Code of Criminal Procedure were imposed on Thursday morning in the area under five police stations in Mhow tehsil, said Indore Collector Ilayaraja.
T Kavita, 22, who hailed from Khargone and studied at a college in Dhamnod in Dhar district was allegedly in a relationship with Yadunandan Patidar of Gawli Palasia village in Mhow tehsil, police said.
She had been living at Patidar's house for six days when she died, allegedly due to electrocution, on Wednesday evening.
Her relatives along with members of the Jai Adivasi Yuva Sangathan (JAYS) gheraoed the Dongargaon police outpost under Badgonda police station at night, demanding that a case of abduction be registered against Patidar and his family members.
Her body was kept in the middle of the road in front of the police outpost.
According to police, the mob turned violent and pelted stones at the outpost and police vehicle, forcing the police to fire first teargas shells and then bullets.
Mhow Additional Superintendent of Police (ASP) Shashikant Kankane told PTI that after learning about the woman's unnatural death, he and other senior officers reached the civil hospital and assured her family that a thorough investigation will be conducted.
But later protesters gathered outside Dongargaon outpost and demanded that a case of abduction and rape be registered against Patidar, the ASP said.
They started throwing stones even after being assured of a free and fair inquiry, he claimed.
"When the mob turned too violent and attacked the police personnel, the police fired around 10 rounds mostly into the air, but one of them hit Bherulal of Choti Jaam village," the official said.
Patidar's mother Shyama Devi told reporters that her son and Kavita were in live-in relationship for the last one and a half years, and they were going to get married soon.
On Wednesday Kavita received shock while drawing water for her bath from an electric heater, Devi claimed.
"She was taken to Mhow civil hospital where the doctors declared her as brought dead," Patidar's mother added, denying the allegations that Kavita was tortured and killed.
Meanwhile, a Congress delegation comprising senior leader Kantilal Bhuriya and fellow MLAs Panchilal Medha, Bala Bachchan and Jhooma Solanki besides Indore Congress in-charge Mahendra Joshi visited Mhow and met the affected families on Friday afternoon.
They will submit a report to State Congress chief Kamal Nath, they said.
© Copyright 2023 PTI. All rights reserved. Republication or redistribution of PTI content, including by framing or similar means, is expressly prohibited without the prior written consent.