At least 15 people have died in heavy floods and landslides triggered by continuous rain for the last three days in Assam, where airforce helicopters, army, National Disaster Response Force and State Disaster Response Force have been pressed into service for rescue work, officials said.
The situation was the worst in Goalpara where five people have died and more than 50,000 people have been affected due to heavy rains in the state and neighbouring Meghalaya, said District Deputy Commissioner Pritam Saikia.
With rains halting on Tuesday, rescue and relief operation are on and airforce helicopters have been pressed into service to rescue the marooned people in Dudhnoi, Krishnai and Bolbola.
Army, NDRF and SDRF are also engaged round-the-clock for rescue work. However, majority of the people have come down on their own to the plains, he said.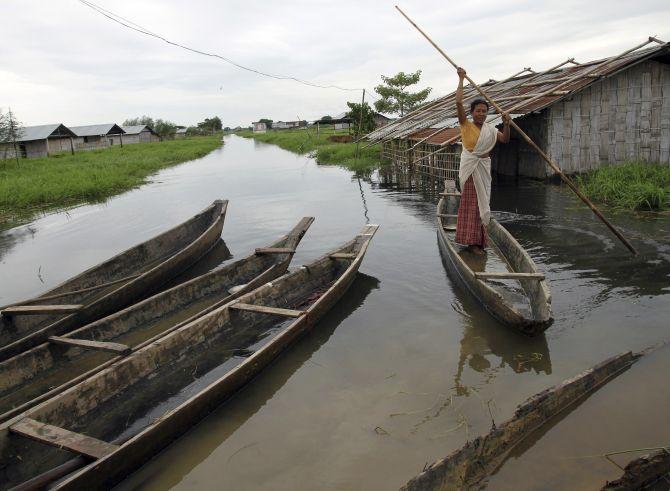 A village woman uses a boat to move to a safer area through the flooded areas of Jorhat district in Assam. Photograph: Reuters
The district administration has made arrangements to provide shelter and necessary relief materials to the affected, Saikia said.
The situation in Guwahati, where two persons have died -- one in landslide and another due to electrocution following heavy precipitation in the past three days, was also improving as rains stopped since on Tuesday morning.
The city recorded 162.56 mm of rainfall since Monday night and the severely affected areas of Anil Nagar, Tarun Nagar, zoo road and other areas remain waterlogged, Kamrup (Metro) district administration spokesman said.
About 300 people have been evacuated from Anil Nagar and housed in relief camps opened by Kamrup metropolitan district administration, which has also made arrangements for distribution of drinking water, candles, biscuits and other items to the affected people.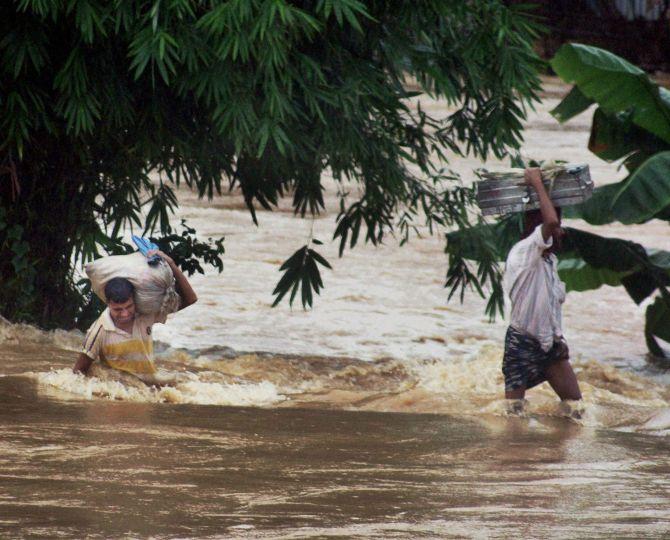 Two men wade through flood water looking for a safer location at Goalpara in Assam. Photograph: PTI photo
Ten boats have been pressed into service to provide relief and rescue people from Anil nagar, Nabinnagar, Lachitnagar, besides Rajgarh and Zoo Road in the heart of the city, the district administration officials said.
The situation in Dhubri district, bordering Bangladesh, was grim with water level of Brahmaputra river showing an upward trend.People are being moved to safer places, Deputy Commissioner Kumud Kalita said.
One child was killed and three others were injured in landslides at Hatisinghmari area of the district, officials said.
The rains have severely affected electric supply and telephone services in both Goalpara and Dhubri districts. Train services in central Assam's Morigaon district were also affected as rain water submerged rail tracks between Jagiroad and Dharamtul stations, Northeast Frontier Railway spokesman said.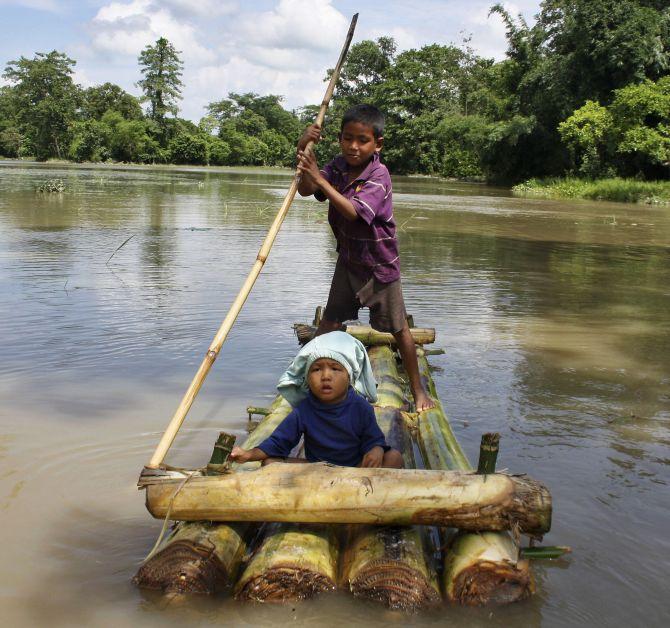 A boy rows a makeshift raft carrying a child through the flooded areas of Lakhimpur district. Photograph: Reuters
All up and down trains passing through the area have been regulated. The Ledo-Guwahati Intercity Express and Silghat-Kamakhya Express have been stopped at Jagiroad and Chaparmukh stations respectively, he added.
Chief Minister Tarun Gogoi held an emergency meeting with senior officials during the day to take stock of the flood situation in some parts of the state and directed the concerned authorities to take all-out measures to deal with the situation, CMO officials said.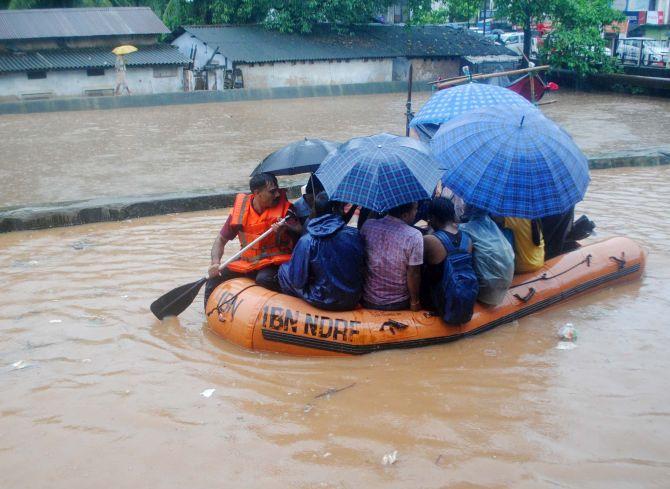 NDRF personnel help locals evacuate their homes.
The chief minister, who is monitoring the situation, had already directed the state disaster management authority to press into service SDRF personnel to evacuate the marooned people.
It was also decided in the meeting that SDRF personnel must be stationed permanently in the flood prone areas and two additional SDRF companies would be raised.
NDRF and SDRF personnel are already operating in Goalpara, Dudhnoi and other places to evacuate the marooned people. SDRF personnel from Sonitpur and North Lakhimpur have also moved to affected areas.
In the flood prone areas of upper Assam, the water level in the river was below the danger level in most of the places and there are no reports of any breach in embankments maintained by water resources department.