An overwhelming majority of voters believe that neither Republican nominee Donald Trump nor Democratic candidate Hillary Clinton will be able to unite the country after the elections.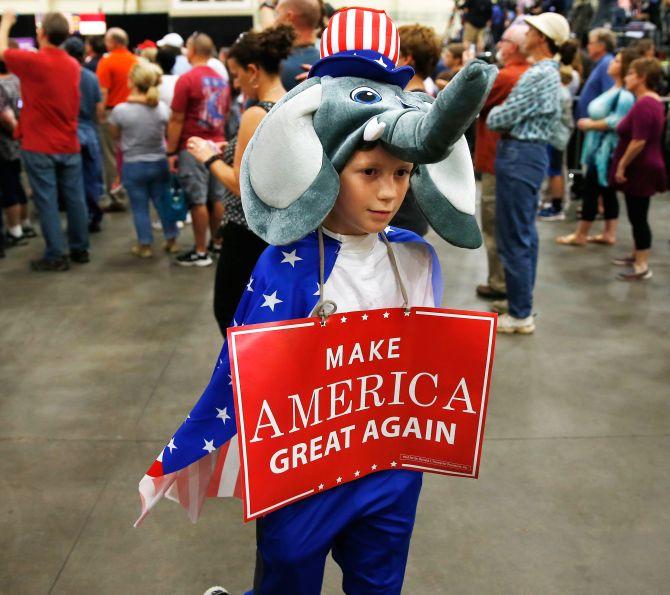 As the long-winding 2016 United States presidential elections nears its end, a poll found that an overwhelming majority of voters are "disgusted" by the state of American politics and see Democratic candidate Hillary Clinton and her rival Donald Trump as dishonest and incapable of uniting the country after the elections.
The New York Times/CBS News poll said an overwhelming majority of voters are disgusted by the state of American politics, and many harbour doubts that either major-party nominee can unite the country after a "historically ugly presidential campaign."
Both Clinton and Trump are seen by a majority of voters as unlikely to unite the country after the election season.
More than eight in 10 voters say the campaign has left them repulsed rather than excited and Clinton and Trump are seen as dishonest and viewed unfavourably by a majority of voters.
Clinton, who had been able to register double digit lead over Trump, has seen the gap narrowed considerably but still has an edge in the survey because of a commanding advantage among women and non-white voters.
The poll found that she has the support of 45 per cent of likely voters as compared Trump's 42 per cent.
Clinton holds a 14-point advantage over her opponent among women, while Trump leads among men by 11 points.
The Times/CBS poll was conducted after fresh revelations by the Federal Bureau of Investigation over Clinton's e-mails yet about six in 10 voters overall said the last minute disclosures about each candidate would make no real difference in their votes.
However, more people said the allegations about Trump were likely to negatively affect their votes than those who said the new e-mail developments would discourage them from voting for Clinton.
Four in 10 likely voters said Trump's behaviour towards women made them less likely to support him while one-third said the newest development in the FBI investigation into Clinton's e-mails had that effect.
After weeks of Trump's accusations that the election is "rigged", a little more than six in 10 of his supporters say they will accept the results as legitimate if he loses, while more than a quarter of his supporters say they will probably not accept the outcome if Clinton is declared the winner.
As Republicans face the possibility of their third consecutive presidential loss, their own voters overwhelmingly acknowledge the party is facing a schism: 85 per cent of Republican voters said the party was divided, and only 14 per cent said it was united.
About as many Republican voters say Trump's candidacy has been bad for the party as they believe that his campaign has been positive for Republicans, an extraordinary divide over their own standard-bearer on the eve of the election, the poll said.
Despite how many feel about Trump, more than eight in 10 Republican voters are falling in line behind their nominee.
The poll also showed a wide class divide, with Clinton getting the support of 48 per cent of whites with college degrees -- a constituency that historically votes for a Republican presidential nominee -- while Trump is backed by 41 per cent from the same voters.
But Trump receives 55 per cent from whites without college degrees, while Clinton captures just 30 per cent from that group.
Image: A supporter of Republican presidential nominee Donald Trump is pictured during a campaign event in Concord, North Carolina. Photograph: Carlo Allegri/Reuters