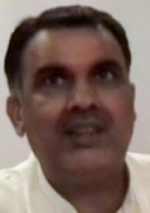 Haryana Congress leader Dharambir Goyat, who has sparked a row with his comment that 90 per cent of the rape cases involved "consensual sex", was on Friday issued a notice by his party seeking explanation for his remarks. Het has been asked to reply within 15 days.
The Haryana Pradesh Congress Committee has asked him to explain his comments and also sought his reply, "why action should not be taken against him for his comments which the party neither holds nor supports", HPCC sources said even as HPCC president Phool Chand Mullana was not contactable.
In case his reply was found to be unsatisfactory disciplinary action would be taken against him, the sources added.
Meanwhile, Haryana Chief Minister Bhupinder Singh Hooda interacting with the media after reviewing the situation with senior police officers of the state distanced himself from the comments of Goyat.
"The Congress does not hold the view expressed by Goyat," Hooda said adding that the views expressed by the Hissar leader were his personal. "It is his view," he added.
However, Goyat later retracted from his statement.
"The girl gets into an affair with a boy and she goes with him without knowing that he is of criminal mindset. It's not the state government which is responsible for rapes. In fact in most of the cases it is consensual sex," Goyat, a HPCC member and Congress Hisar district spokesman told reporters in Hisar on Thursday night.
"In 90 per cent cases, the girls and women initially accompany boys on their own and are later trapped in gang-rape by criminals," Goyat said, noting that Uttar Pradesh reported the highest number of rapes.
"In Haryana, all the rapists have been sent to jail. The rapist has no caste or creed. In Hisar district, in one year alone among the 38 rape cases, 19 were against minors and 19 against women," he said, adding in many cases Dalit boys were involved in rape cases against Dalit girls.
After his statement led to an outcry, Goyat said his remarks were "twisted and misinterpreted". He also clarified that had not spoken on behalf of the party and they were his personal views.
He termed former Haryana chief minister O P Chautala's suggestion -- that girls should be married off at 16 years -- as "ill-conceived, illogical and undesired".
Chautala had backtracked from his statement on Thursday.

Image: Haryana Congress leader Dharambir Goyat