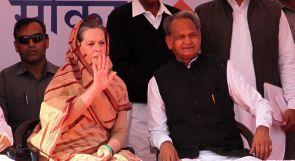 In the humiliating defeat of the Congress party in Rajasthan except for Chief Minister Ashok Gehlot, most of his ministers have lost the election.
It is not only ministers, but Speaker Dipendra Shekhawat and state president Chandrabhan Singh have also lost their respective seats.
Shanti Dhariwal, the urban development minister, who was considered number two in the Gehlot government lost to Prahad Gunjal in Kota by 14,861 votes.
Another heavyweight and minister Jitendra Singh, who comes from Gujjar community, also lost despite community leader Colonel Kirori Bainsla announcing the community's support for the Congress. Significantly, it is not the Bharatiya Janata Party but the Bahujan Samaj Party candidate who defeated him.
Another minister Rajendra Pareek, a Jat leader, also lost the Sikar constituency to a BJP candidate.
Tourism minister Bina Kak also from Sumerpur lost to Madan Rathor of the BJP.
Brij Kishor Sharma, education minister, who contested from the Hawa Mahal seat in Jaipur also lost to the BJP's Surendra Pareek.
And health minister A A Khan, whose department oversaw the free medicine scheme, a major issue during the polls, could not even save his seat.
Another minister from minority community Naseem Akhtar also lost the election as did Virendra Beniwal, another cabinet minister.
Even the state president Chandrabhan Singh could not withstand the BJP wave in the state. Soon after the results started coming in, Chandrabhan resigned from his post.
There were 12 cabinet ministers and 14 ministers of state in the Gehlot cabinet, and as reports are coming in, most of them have lost.
Image: Ashok Gehlot, seen here with party president Sonia Gandhi, is the only major Congress leader who won his seat.