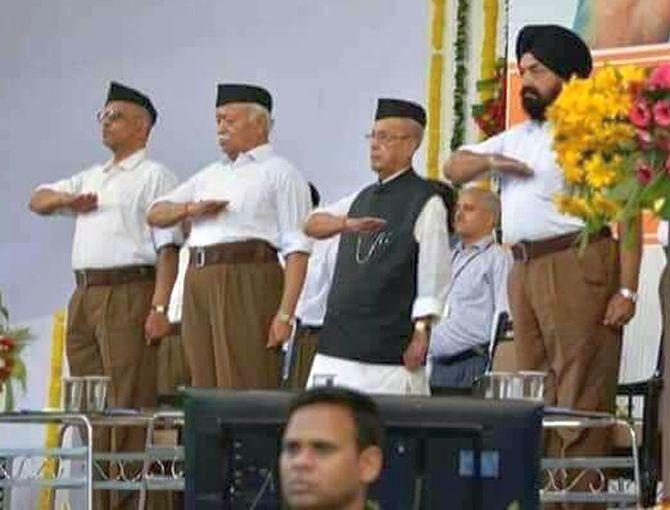 Hours after his speech at the Rashtriya Swayamsevak Sangh headquarters in Nagpur, a morphed picture of former President Pranab Mukherjee surfaced on social media.
In the edited photograph, Mukherjee is seen wearing a black colour cap similar to that worn by RSS chief Mohan Bhagwat and other RSS officials.
Furthermore, the morphed photo shows him raising his hand to his chest and giving a salute akin to the one given by RSS cadres.
However, in reality, Mukherjee neither wore a cap nor did he give any salute.
The image prompted his daughter and Congress leader Sharmistha Mukherjee to say that she had feared and cautioned her father about this.
"See, this is exactly what I was fearing & warned my father about. Not even few hours have passed, but BJP/RSS dirty tricks dept is at work in full swing!" she tweeted.
Sharmistha, who heads the Mahila Congress and the media department of the Delhi Congress, had cautioned her father that his speech would be forgotten but the visuals would remain, giving the BJP/RSS a "full handle" to plant false stories and spread rumours.
"Hope @CitiznMukherjee now realises from todays' incident, how BJP dirty tricks dept operates. Even RSS wouldn't believe that u r going 2 endorse its views in ur speech. But the speech will be forgotten, visuals will remain & those will be circulated with fake statements," she said.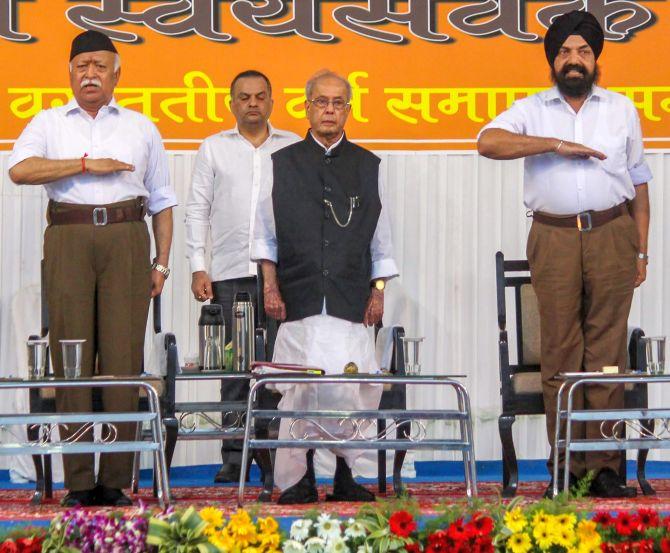 However, after Pranab's speech, she said theirs was a "democratic, argumentative family" and she had no problem expressing differences with her father in public.
It is a lesson she learnt from her father, Sharmistha Mukherjee, who has publicly opposed the former president visiting the RSS headquarters and delivering a speech there, said in response to BJP leader Subramanian Swamy's reported comments backing her.
"This is something you must grow up to. My own daughter doesn't agree with my views and I don't agree with hers. But we are a happy family. We must learn that individuals have opinions," Swamy was reported as saying.
"Exactly! That's how I grew up, & that's why I don't have any problem expressing my differences with him on issues even in public. We are a democratic, argumentative family; & I learnt this from my father only," Sharmistha Mukherjee replied on Twitter.
Warning that hatred and intolerance diluted national identity, the former president on Thursday spoke from the RSS platform to declare that nationalism was not bound by race or religion and called for dialogue to reconcile differences.
Senior Congress leader and former finance minister P Chidambaram also lauded Pranab for highlighting Congress' ideology during his speech at the Rashtriya Swayamsevak Sangh event.
"Happy that Mr Pranab Mukherjee told the RSS what is right about Congress' ideology. It was his way of saying what is wrong about RSS' ideology," Chidambaram tweeted.
Earlier, Chidambaram had requested the former President to tell the RSS what is wrong with their ideology.
"Now that he (Pranab Mukherjee) has accepted invitation there is no point debating why he accepted it. More important thing to say is, sir you have accepted invitation, please go there and tell them what is wrong with their ideology," Chidambaram said earlier at an event in Delhi.
With inputs from PTI, ANI