Here is Rediff.com's selection of some stories from Thursday that you may not have read in the morning newspaper.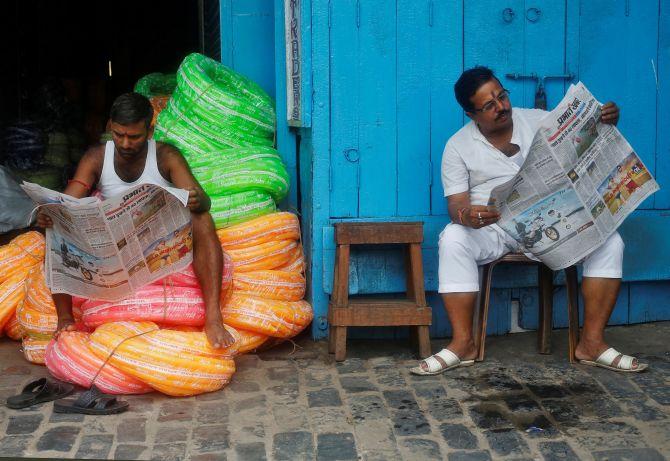 * If records at a fair price shop in Farukhabad are to be believed, Deepika Padukone, Sonakshi Sinha, Jacqueline Fernandez and Rani Mukherjee are married to Farrukhabad natives Rakesh Chand, Ramesh Chand, Sadhu Lal and Ram Swaroop. A distributor at Sahabganj village in Qayamganj tehsil has names of these actors on the list of beneficiaries and ration is being taken on these names for quite a long time.
---
* Days after the Ayodhya civic body declared the over 300-year-old Aalamgiri Masjid 'hazardous' and pasted a notice banning entry into the building, the Hanumangarhi temple trust, which is in possession of the mosque land, not only allowed its reconstruction and agreed to bear cost but also welcomed Muslims to offer namaz in the premises.
---
* Subhash Velingkar, the sacked Rashtriya Swayamsevak Sangh chief of Goa, has held Union Road Transport and Highways Minister Nitin Gadkari responsible for his deposition. In a sort of first-of-its-kind-revolt in the 91-year-old RSS, 400 office bearers resigned from their posts demanding that Velingkar be immediately reinstated for them to return to the Sangh family.
---
* A classified 60-year-old Japanese government document on Netaji Subhas Chandra Bose's death made public on Thursday clearly concludes that the legendary freedom fighter died in a plane crash in Taiwan on August 18, 1945, backing the official version.
---
* The erstwhile royal family of Jaipur took its battle with Jaipur Development Authority over Raj Mahal Palace to the streets with 'Rajamata' Padmini Devi taking out a rally in which scores of her supporters participated. Accusing the JDA of highhandedness, Devi said that her family which was respected by the city had been hurt and insulted by the actions of the Jaipur Development Authority, which last week sealed the main entrance to the Palace claiming that it was on its land.
---
*Days after accusing Prime Minister Narendra Modi of insulting 'gau rakshaks' for dubbing them as 'anti-socials', the Vishwa Hindu Parishad has now asked the Centre to tell states not to harass authorised people and agencies engaged in cow protection. VHP international president Praveen Togadia expressed confidence that the 'gau-bhakts' (cow worshippers) in the central government and the Bharatiya Janata Party have taken a pledge for cow protection.