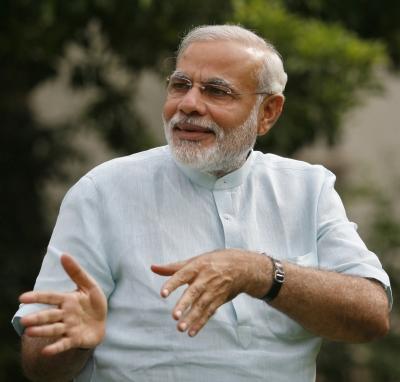 Three top US lawmakers have asked the Congressional leadership to invite Prime Minister Narendra Modi to address a joint session of the US Congress when he visits Washington at the invitation of President Barack Obama.
"Indian Prime Minister Narendra Modi is expected to visit Washington in late September 2014. Given the importance of our relationship with India, we ask you to invite Prime Minister Modi to address a Joint Session of Congress," Congressmen Brad Sherman, Ted Poe and Eni Faleomavaega wrote in a joint letter to the top leadership of the US Congress.
While no dates of Modi's US visit have been announced yet, he is expected to visit America in September to attend the annual General Assembly session of the United Nations.
"India recently held the largest democratic exercise in history; about 550 million people voted in free and fair elections. Since recognising India's independence in 1947, the US and India's relationship has steadily grown," they said.
The US and India share many core values, including religious pluralism, individual freedom, the rule of law, and electoral democracy, they said.
"We have an opportunity to build on the US-India strategic partnership to the benefit of both our nations. India is a growing economic power in a strategically important region of the world. New Delhi plays a critical role in regional peace and security," they wrote in the letter.
"In each of the last three decades, a Prime Minister of India has addressed a Joint Session of Congress, and the upcoming visit of Prime Minister Modi will allow us to continue that tradition," they said.
Last week Senior Republican Senator John McCain had urged Congressional leadership to invite Modi to address the joint session of the US Congress.
Two top American lawmakers including Congressman Ed Royce, Chairman of the House Foreign Affairs Committee, last month urged the Speaker of the US House of Representatives John Boehner to invite Modi to address the session.
© Copyright 2022 PTI. All rights reserved. Republication or redistribution of PTI content, including by framing or similar means, is expressly prohibited without the prior written consent.