Every minute is important, the Uttarakhand chief secretary said on Monday as more houses, buildings and roads developed cracks in the sinking town of Joshimath, red crosses came up on hundreds of unsafe structures and many residents stayed on despite the imminent danger.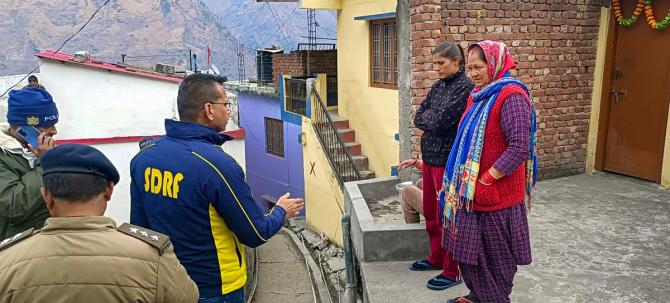 The number of subsidence-affected homes rose to 678 while 27 more families were evacuated to safety, a bulletin from the Disaster Management Authority in Chamoli said, adding so far 82 families have been shifted to safe locations in the town.
Chief secretary SS Sandhu held a meeting with officials at the state secretariat to review the situation in Joshimath and asked them to speed up the evacuation exercise to ensure the safety of residents as "every minute is important".
The district administration had put red cross marks on more than 200 houses in the sinking town that are unsafe for living.
It asked their occupants to either shift to the temporary relief centres or rented accommodation for which each family will get assistance of Rs 4000 per month for the next six months from the state government.
Personnel of the National Disaster Response Force and State Disaster Response Force have been deployed for the relief and rescue efforts.
There are 16 places in Joshimath where temporary relief centres have been built for the affected people. Apart from them, 19 more hotels, guest houses and school buildings have been identified for the affected people in Joshimath and 20 outside the town in Pipalkoti.
Sandhu said the work on stopping toe erosion in the subsidence-hit areas should be started immediately and dilapidated houses that have developed huge cracks should be razed soon so that they do not cause further damage.
Broken drinking water pipelines and sewer lines should also be repaired immediately as they might complicate things in the subsidence zone, he said.
Many families in the affected area are finding it hard to sever their emotional ties with their homes and move out.
Even those who have shifted to temporary shelters keep returning to their abandoned houses in the danger zone, unable to overcome the pull of home.
Parmeshwari Devi, an elderly resident of Marwari ward which is one of the worst-hit in the town, said she spent her entire savings on having a house of her own and now she is being asked to leave it and shift to a relief camp.
"I would prefer dying where I belong rather than going anywhere else. Where will I get the comfort of my own home," Devi told a private news channel.
Suraj Kaparwan, a resident of Manoharbhagh in Joshimath, has a similar story. The family is still trying to make up its mind to leave their home.
The house of Rishi Devi, a resident of Singdhar, is caving in gradually and she has had to shift along with her family to a safe location but she returns to her home every day despite her kin stopping her from doing so.
Devi now sits in the courtyard and keeps staring at its walls riddled with cracks.
Rama Devi's family was forced to sleep on the inner verandah of their home after the rooms developed cracks but then had to finally leave the house in a panic.
"Our room used to shake every now and then, scaring us. So we began to sleep on the verandah. But even the verandah developed cracks last night. Now we are moving into rented accommodation," Rami Devi of Gandhinagar said.
Lakshmi, a resident of Singdhar who has taken shelter in a primary school building, says she wants permanent rehabilitation.
"For how long shall we stay in this temporary relief camp," she asked.
The Congress on Monday demanded that the land subsidence situation in Uttarakhand's Joshimath should be declared a national calamity and all developmental projects in the area halted till a report by experts and environmentalists is submitted on the issue.
The opposition party described it as a man-made disaster and sought enhanced compensation for each house affected due to the "unbridled development" in the area. It asked the government to preserve the old Joshimath town and develop a new town to rehabilitate the residents.
Congress president Mallikarjun Kharge said, "Protect nature. The whole country is worried and is with the people of Joshimath, where unbridled development has created cracks in Uttarakhand's 'Devsthal'."
"We have three demands from the Modi government - The Joshimath tragedy should be declared a "national calamity".
"Stop all new projects, including of railways and hydel power, until a newly appointed high-level committee of experts, scientists, environmentalists and local people submits its report," he said in a series of tweets in Hindi.
"The oustees of Joshimath be given adequate compensation from PM CARES fund, instead of only Rs 5000," Kharge also said.
Former chief minister Harish Rawat has also demanded that the compensation be increased to Rs 50,000 per victim and a 'new Joshimath' be established while preserving the old town.
Congress leader Manish Khanduri said the first cracks in Joshimath had appeared in 2019 but the response of the Bharatiya Janata Party government in the state has been "shoddy and inadequate" and the chief minister was "found lacking".
The Supreme Court, meanwhile, has asked a petitioner who has sought the court's intervention to declare the crisis in Uttarakhand's Joshimath as a national disaster to mention his plea Tuesday for urgent listing.
Locals and the opposition Congress held the building of the NTPC tunnel and the construction of the Char Dham all-weather road responsible for the aggravation of the land subsidence problem in the town.
However, director of Wadia Institute of Himalayan Geology Kalachand Sain said, "Though we cannot rule it out, we cannot say this categorically as the NTPC tunnel is far from the affected area. However, a detailed analysis of the problem alone can ascertain its causes."
State Congress president Karan Mahara visited Joshimath and said the subsidence began years ago but the state government is waking up only now.
"As many as 30,000 people will be affected by the ongoing crisis in Joshimath which is a hub of tourism activities. People will lose their livelihoods," Mahara said.
"Politics should not be done in a situation like this. People's lives should be saved as a priority," Mahara said.
© Copyright 2023 PTI. All rights reserved. Republication or redistribution of PTI content, including by framing or similar means, is expressly prohibited without the prior written consent.