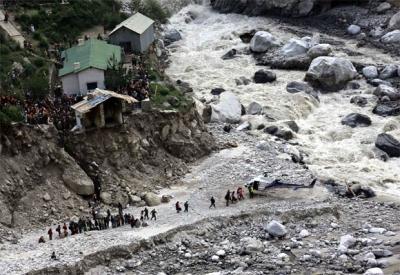 More disasters are waiting to happen in Uttarakhand region, a senior Indian Air Force officer, who played a key role in search, rescue and relief operations there, has said.
The massive disaster in June was primarily caused by the melting of a massive glacial lake above Kedarnath and rise in water levels due to heavy and incessant rains.
The lake exploded like a dam burst, bringing down boulders, slush and gushing water that created havoc all across, destroying everything on the way.
On June 16-17, when the disaster struck, several hundreds were killed and thousands went missing, while over one lakh tourists and local residents remained trapped for days.
This narrative was given by Air Vice Marshal SRK Nair, who was the overall IAF coordinator of Operation Rahat in Uttarakhand.
"Several more such glacial lakes exist in the entire region and there are real chances of recurrence of such disasters," he warned, stressing the need for storing relief materials, including fuel for relief helicopters, at vantage points.
Speaking at the inaugural session of an international seminar, Nair stressed the need for permanent measures to meet such exigencies, especially in areas like Uttarakhand.
The National Institute of Disaster Management, in one of its first reports on the Uttarakhand floods, has also blamed "climatic conditions combined with haphazard human intervention" in the hills for the disaster, specifically referring to the massive denuding and deforestation in the area.
Image: Uttarakhand in the aftermath of the disaster