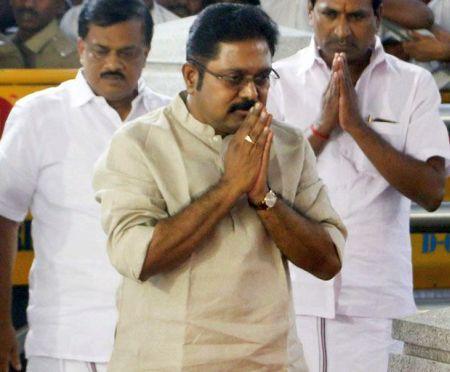 TTV Dinakaran could be in more trouble as I-T officials have found a connection between him and Jaya TV and other Jayalalithaa companies, reports Aditi Phadnis.
Although he has fought back, TTV Dinakaran, commissar in the All India Anna Dravida Munnetra Kazhagam of Tamil Nadu and keeper of many secrets, could be in serious trouble this time.
He put up a brave front when income tax authorities searched Jaya TV offices and 21 other locations in Tamil Nadu, following reports of tax evasion, last week.
The other sites searched included the house of jailed ex-supremo Sasikala's brother in Chennai (where V K Sasikala stayed while out on parole) and Dinakaran's residence at Mannargudi.
"People are watching everything. They understand what is going on. If the Centre thinks they can destroy us by conducting such raids, they are day-dreaming. It is political vendetta. People who have looted the state are sitting in power," said Dinakaran.
In the game of thrones that is the politics of the AIADMK, Dinakaran is possibly the only one representing Sasikala, friend and heir to Jayalalithaa's fortune.
His lineage is important: Dinakaran's mother, Vanithamani, was Sasikala's sister. When Sasikala befriended Jayalalithaa, all three of Vanithamani's sons began to be seen around Jaya. They were known as the TTV brothers: Dinakaran, Bhaskaran and Sudhakaran. Sudhakaran was the one Jayalalithaa adopted as her foster son, and then disowned. Dinakaran continued to remain close to her.
As his fortunes rose he was named party nominee for the Periyakulam Lok Sabha constituency twice. He won the seat once but lost the second time and was sent to the Rajya Sabha.
He was also made party treasurer. And, acted as the mentor of O Panneerselvam, then involved in local municipal politics.
Soon, Panneerselvam elbowed Dinakaran out and rose to be the Jaya-blessed chief minister when she went to jail, as well as when she was hospitalised.
Dinakaran's fortunes dipped further when, in 2011, Jayalalithaa barred relatives of Sasikala, including him, from entering her house.
More bad news followed.
His passport was impounded and so, all the foreign visits undertaken as an MP -- to the Bahamas, Hong Kong, Singapore, South Korea, Spain and the United Kingdom -- came to an end.
In March 2012, Jayalalithaa readmitted Sasikala to the AIADMK after the latter's public apology in which she pledged to sever ties with kin who conspired against Jayalalithaa.
But, the Poes Garden residence of Jaya remained out of bounds for Dinakaran. And, then, Jayalalithaa died and everything changed in days.
Sasikala laid the ground for Dinakaran's re-entry. Gawking AIADMK cadres were told how Dinakaran served Jaya.
"A few relatives of Janaki, MGR's wife, pushed Jayalalithaa down from the vehicle carrying MGR's body. Imagine, a well-built and tall person like Jeppiaar (a confidante of MGR) hit her on the back. I held her from falling down while Dinakaran, who was a young boy, bit Jeppiaar's hand," Sasikala recalled at a party meeting in February 2017.
Before going to jail, she named Dinakaran deputy party chief. He was to be Sasikala's eyes and ears during the time she was locked.
Dinakaran made no secret of his plan. At a public meeting in March in Tiruvannamalai, he told the audience: "I know personally how Panneerselvam came from Periyakulam (as a first time MLA) to Chennai in (2001) and soon there will be an enquiry to find out how and why your (Panneerselvam's) sons and sons-in-law travel to Chennai, New Delhi and abroad frequently. What is the need for them to travel to foreign countries often? What is it that takes them to foreign countries so often?"
He thought he had everything going for him. He was the candidate for the RK Nagar assembly seat that Jayalalithaa had held, and once in the assembly, he believed he could both rule and reign.
Except that Edappadi Palaniswami and Panneerselvam joined forces to oust Dinakaran and the Election Commission cancelled the RK Nagar byelection. Soon after, he was dismissed from all positions in the party.
Now, I-T officials have found a connection between him and Jaya TV and other Jayalalithaa companies. And, Dinakaran could be in more trouble.