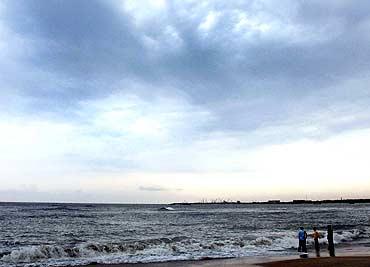 The much-awaited south-west monsoon on Monday brought first showers to the Andaman and Nicobar islands, setting the stage for its early progression towards Kerala.
"The south-west monsoon has set in over parts of south Bay of Bengal, Andaman and Nicobar Islands and most parts of Andaman Sea," said Ajit Tyagi, director general of the India Meteorological Department.
He said a depression in the Bay of Bengal was expected to pull the monsoonal flow towards the mainland and it may reach Kerala earlier than May 30.
Last week, the IMD had issued a forecast stating that the monsoon could reach Kerala by May 30.
The onset of monsoon has now set the stage for the four-month rainfall season that has been eagerly awaited by the agricultural community who had to bear the brunt of a severe drought last year.
The weather office said conditions were favourable for further advancement of the monsoon over more parts of Bay of Bengal and remaining parts of Andaman Sea during the next two days.
In April, the IMD forecast a normal rainfall for this year with a precipitation of 98 per cent of the Long Period Average, subject to a model error of plus or minus five per cent for the entire season (from June to September).
Last year, the weather office had forecast a rainfall of 94 per cent plus or minus five per cent in April and then fine tuned it to 93 per cent plus or minus four per cent. But, the country received a rainfall of 78 per cent of the LPA only for the season.
The normal monsoon forecast is expected to bring cheers to over 235 million farmers who had faced a severe drought last year due to the failed monsoon.
A favourable parameter for a normal monsoon was the end of the El Nino event for the year.
The Australian Bureau of Meteorology had announced the conclusion of the El Nino event of 2009-10 saying that all the major indicators were now below El Nino thresholds.
The periodic warming of the equatorial to equatorial east Pacific is known to affect the monsoon rains in India adversely. The unusual warming of the Pacific water was one of the factors believed to have affected the monsoon last year.
Scientists now expect the La Nina conditions to develop which are known to be favourable to the Indian monsoon.
La Nina represents the exact reverse of El Nino, when the warming anomaly spreads westwards in the Pacific; it is largely known to favour an Indian monsoon.
Historically, nearly 40 per cent of El Nino events are immediately followed by a La Nina, the ABM said.