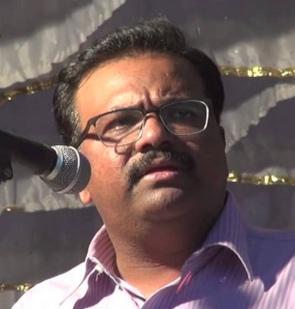 A day after Nationalist Congress Party leader Samir Bhujbal was arrested by the Enforcement Directorate in a money laundering case, the former member of Parliament was on Tuesday sent to the agency's custody until February 8 by a special PMLA court in Mumbai.
"The accused has been remanded to ED custody until February 8," ordered Special Judge P R Bhavke.
Samir, nephew of NCP leader Chhagan Bhujbal, was placed under arrest last night after over six hours of questioning under the provision of the PMLA at the agency's office in Ballard Pier in Mumbai after the ED conducted searches on at least nine premises. The premises including properties and offices, belonging to former Maharashtra PWD minister Chhagan Bhujbal, son Pankaj, Samir and few others.
The agency's action invited the NCP's ire which described the searches as "political vendetta" with party chief Sharad Pawar coming out in support of Bhujbals and saying that they are being targeted for political gains.
Pawar also hit out the government saying that what is being shown as (Chhagan) Bhujbal's decision, is actually the decision of the cabinet and said that he has not seen such "blatant misuse of power" in the last 40 years.
The ED counsel Hiten Venegaoankar said that Samir did not appear before the agency inspite three summons sent to him.
In the remand application accessed by PTI, the Enforcement Directorate said that during the course of their preliminary investigation in the case, they scrutinised and analysed several records, documents and bank statements obtained from various persons and entities.
As per the remand application, Sunil Naik, Chartered accountant of Mumbai Educational Trust, controlled by Bhujbals told the ED that shares of Parvesh Constructions and Armstrong Energy (firms owned and controlled by Bhujbals), were sold to dubious companies against cash at unrealistic high premiums of Rs 9,900 per share against the share value of Rs 100 each besides channeling funds to the tune of Rs 75 crore and Rs 50 crore respectively using this method.
Further it said that Sunil Jajodia, a market operator named by Naik confirmed that as instructed by Naik, he had arranged funds in bank accounts of Parvesh Constructions and Armstrong Energy against cash.
Jajodia also told the ED in a statement that he used to receive cash from MET office of Bhujbals at suburban Bandra, which he kept transferring to his Kolkata-based contacts by allegedly using "hawala" services.