"It's something we never imagined getting to do," said Farah and Sara, joined at the head, as they flashed their inked fingers after exercising their right to vote during the third phase of the Bihar assembly polls. M I Khan reports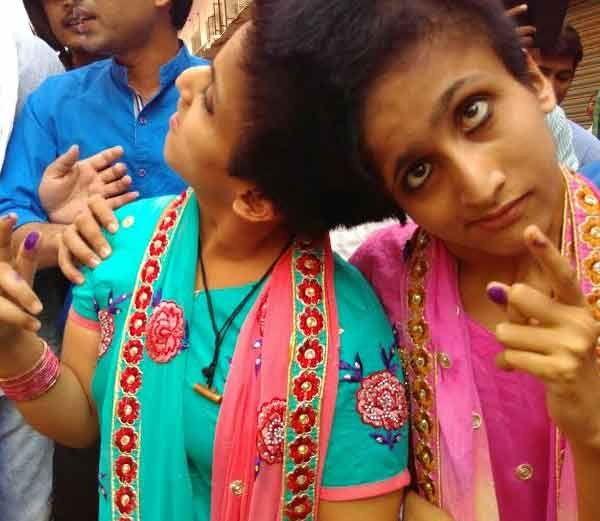 Saba and Farah, the conjoined twins, have a single voter ID card, which bears the name 'SabaFarah.'
Long, serpentine queues of people waiting in line to cast their vote during the third phase of the Bihar assembly polls were pleasantly surprised when they noticed that conjoined twins Saba and Farah Shakeel were also in line, excited to cast their ballot for the first time.
The 19-year-old sisters, who are joined at their heads and share an artery that carries blood to their hearts, were excited and anxious to take part in the voting process at a polling booth in the Samanpura locality of Patna.
"It's a moment of great pride for us. We decided to vote this time to send a message that people, particularly the youth, should come and cast their ballot, said Saba.
The exhilarated Farah said that she could not sleep well a night before as she was so thrilled about casting her vote. "It was something we never imagined doing, but we finally have got the chance to go out there and exercise our right," she said.
Incidentally, the sisters have been issued a common voter identity card by the Election Commission of India which will not allow them to cast their votes separately. The card also has their names clubbed as "Saba Farah."
When asked if their family had instructed them about whom to vote for, the twins both said in unison, "NO. We are adults and we can make our own decisions."
Saba and Farah live with their parents and siblings in a congested lane in Samanpura near Rajbazar.

Three months ago, in an attempt to make their lives easier, Chief Minister Nitish Kumar had directed the state government to increase the monthly grant -- from Rs to Rs 5,000 -- after they met him during a weekly Janata darbar.

In 2013, the Supreme Court had ordered the Bihar government to give financial help to the twins and take care of their medical expenses along with regular check ups.

The twins' father, Mohammad Shakeel, a tea stall owner in Patna, had pleaded for mercy killing for his twins in 2011. An expert team headed by American specialist Dr Benjamin Carson about 5 years ago opined that separating Saba and Farah would require five or six operations, spread over nine months, but each stage held a one-in-five chance that one of the girls might die.
The twins' family had decided against the surgery despite Abu Dhabi's crown prince Sheikh Mohammed Bin Zayed offering to pay for it.