Indian Space and Research Organisation's Mars Orbiter Mission and American National Aeronautics and Space Administration's orbiter mission Mars Atmosphere and Volatile Evolution or MAVEN will share data concerning the upper atmosphere of Mars.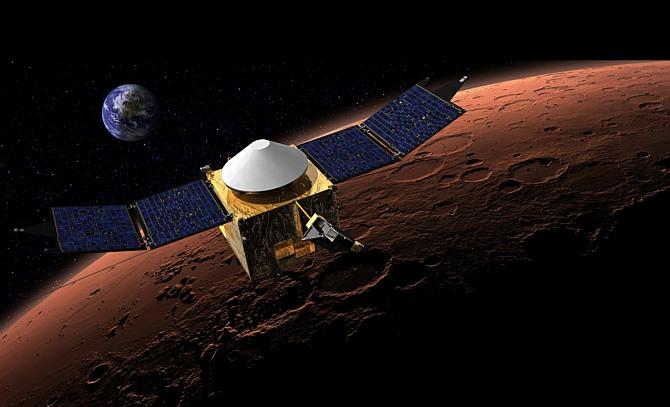 NASA said it was interested in correlating its data sets with MOM as both missions share similar objectives and carry similar instruments.

"There are plans to share data regarding Mars' upper atmosphere wherever it is appropriate. Both spacecraft are communicating via the NASA Jet Propulsion Laboratory and the Deep Space Network currently," said a post on MAVEN's Facebook page.

For instance, it said the payloads 'Lyman-alpha photometer' and 'Mars Enospheric Neutral Composition Analyser' (MENCA) for study of the Martian upper atmosphere onboard MOM and the MAVEN's Imaging Ultraviolet Spectrometer (IUVS) and Neutral Gas and Ion Mass Spectrometer (NGIMS) instruments
should obtain complimentary data, it added.
MOM is carrying five payloads and is configured to observe physical features of Mars and carry out limited study of the Martian atmosphere.
MAVEN, on the other hand, is a dedicated mission to study the Martian upper atmosphere. It is also another step towards NASA's plan to send astronauts to Mars in the 2030s.
NASA's orbiter, which was inserted into the Martian Orbiter on Sunday, will start probing the upper atmosphere of Mars from early November and is expected to spend at least a year collecting data.
ISRO's ties with NASA have strengthened over the past few years, especially after the successful launch of Chandrayaan I.
Building on the highly successful Chandrayaan-1 lunar mission, the NASA and Isro agreed to explore further cooperation in fields such as planetary science and heliophysics, as well as potential future missions to the moon and Mars. NASA is also providing deep space navigation and tracking support services to MOM during the non-visible period of the Indian Deep Space Network.