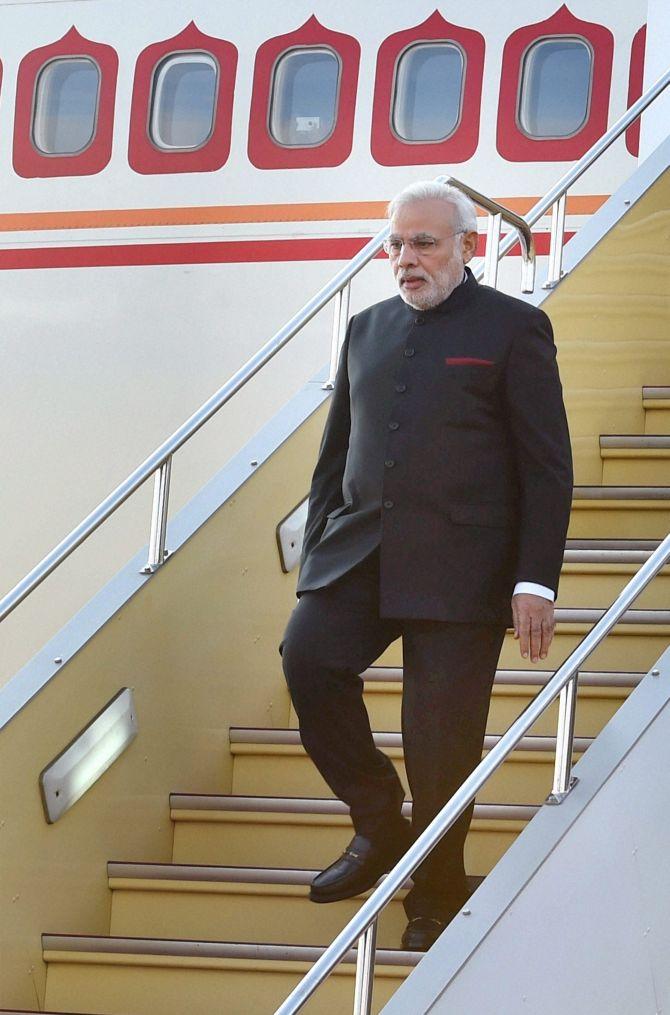 Cooperation in key areas of defence, security and counter-terrorism will be an important aspect of Prime Minister Narendra Modi's discussions during his visit to three West Asian countries -- Palestine, the United Arab Emirates and Oman -- starting Friday.
Ministry of external affairs spokesperson Raveesh Kumar said the effort during this visit will be to "broad-base" India's engagement with these countries and focus on more strategic spheres such as defence and security, trade and investment.
Ministry officials also played-down the issue of the Palestinian envoy in Pakistan sharing a dais with Lashkar-e-Tayiba chief and Mumbai attack mastermind Hafiz Saeed at a rally, saying the country had taken action in the matter.
During his visit to the UAE, Modi will also be addressing the sixth World Government Summit in Dubai.
Stressing that terrorism is a "common concern" for India and its partner countries in the Gulf, Mridul Kumar, joint secretary (Gulf) in the MEA, said New Delhi has a very strong "agency to agency cooperation" with countries such as the UAE, Oman, Saudi Arabia and Qatar.
"Counter terrorism will definitely be a very important aspect of our discussions with the counterpart leaderships in these countries," Mridul said.
Responding to a question on whether India will pitch for a proposal to counter elements such as India's wanted terrorist Dawood Ibrahim, who fled to the UAE and operated from there, Mirdul said the issue of counter-terrorism was a continuous process.
"A lot of work has taken place since last two-and-a-half years. Our agencies have been interacting on these issues on regular intervals," Mridul said.
Several threats have been neutralised due to the cooperation between the Indian security agencies and its counterparts, he said without going into further details.
On India-UAE cooperation in the area of security and defence, Mridul said, "The new areas we are working is defence and security, and we have made tremendous progress on that (front)."
During Modi's last visit, the two countries had decided to establish a dialogue between their National Security Advisors and National Security Councils to further improve operational cooperation.
Briefing reporters on Modi's agenda during his visit to Oman, Mridul said good ties with the Gulf nation is very crucial for India as it is located in a very important geo-strategic position.
He said India and Oman conduct regular bilateral exercises between their forces and Oman also provides refuelling facility to Indian ships and aircraft.
"If you look at our strategic dimension with Oman, it is very important. Keeping in view our defence and security arrangement, the prime minister is going there," Mridul said.
As far as Palestine is concerned, it is also an important partner of India in fight against terrorism, said B Bala Bhaskar, joint secretary (West Asia and North Africa) in the
MEA.
"They extend total support to us. We have had a very good security cooperation with the Palestinian side. And sitting in that part of the world they have very good experience in that arena," he said.
Counter terrorism is one of the key areas of our bilateral engagement with Palestine, Bhaskar said.
Asked about the issue of Palestinian envoy attending the rally of Saeed and its impact on India-Palestine ties, Bhaskar said, "As you are aware that the Palestinian side made it very clear that whatever the reason, his (the envoy's) sharing of dais with Hafeez Saeed was unacceptable to Palestinian authorities and within no time they recalled him."
"So, I think we don't need to see (or) read anything into that. The fact that they acted very promptly and issued a written statement that it was not acceptable speaks volumes of their trust and relationship with India," he said.
In December last year, India had reacted sharply after Palestinian envoy to Pakistan Waleed Abu attended Saeed's rally.