Prime Minister Narendra Modi has advised his ministers to be on the lookout for sting operations and entrapment by the Opposition.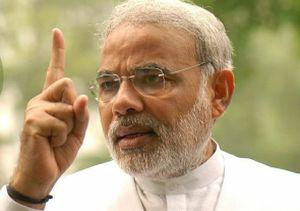 Prime Minister Narendra Modi had a word of advice for his Council of Ministers at the dinner meeting he hosted at his residence on Monday. Modi explicitly asked his ministers not to entertain unknown persons and suspicious characters.
Reeling under a humiliating defeat, opposition parties may carry out sting operations to trap them, Modi said, advising caution to his ministers.
Home Minister Rajnath Singh and Finance Minister Arun Jaitley, who spoke at the two-hour dinner meet, also warned the new ministers saying the "world is against the BJP".
People have reposed faith in the Bharatiya Janata Party and we have to live up to their expectations, do not derail our achievements by getting into controversies, the senior leaders told the ministers.

Seniors in the ministry said the prime minister's warnings were similar to the ones issued to Janata Party MPs by Jayaprakash Narayan in 1977, soon after their landslide victory against the Congress. In Modi these BJP leaders saw another JP, said a minister.

Modi warned them that sting operations like the one against former BJP president Bangaru Laxman in 2001 may be carried out again. "Beware of the people you talk to, your conversation could be tape-recorded. Your enemies may distract you with money and try to trap you, be doubly careful," was Modi's message to his ministers.
The prime minister also cautioned his ministers against extending favours to family members and friends.
He asked them to maintain good relations with bureaucrats and try to extract the maximum work from them. He asked ministers to encourage the bureaucracy to give innovative ideas and implement them. The ministers are free to rope in the services of experts and technocrats if they found it would benefit schemes, Modi said.

Advising the ministers to not talk too much, Prime Minister Modi said people would judge the government based on their work and not speeches.