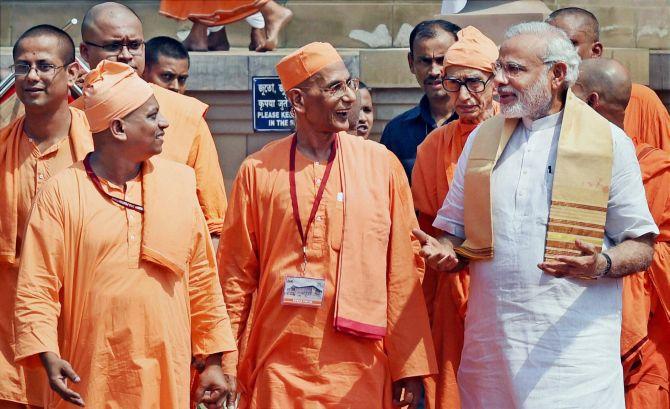 Prime Minister Narendra Modi sharing a word with monks during a visit to Belur Math (Headquarters of Ramakrishna Math & Ramakrishna Mission) in Kolkata. Photograph: Ashok Bhaumik/ PTI
Taking a brief spiritual break, Prime Minister Narendra Modi on Sunday visited two famous shrines of West Bengal -- Belurmath, with which he has an emotional connect as he had tried in vain to join its order thrice, and Dakshineswar Kali temple -- where he offered prayers and meditated.
Upon arrival this morning at Belurmath, the Ramakrishna Mission headquarters, the prime minister walked down barefoot from his car and spent around an hour praying in all the temples in the complex while bonding with the monks.
Modi looked visibly emotional after reaching the room where Swami Vivekananda had spent his last days. He sat down near the slippers of 19th century philosopher-saint to meditate for around 15 minutes.
Visitors are allowed to glance in the room through the window but the doors were opened for the Prime Minister. He mixed freely with the monks saying he considers himself a 'ghar ka ladka' (one of the family).
"'Ghar la ladka agar ghar aaya hai to uska swagat kiya jata hai kya?' (If a boy comes to his house do you welcome him?)," Swami Subirananda, assistant secretary of the math, quoted the PM as having told them last evening when he went to meet Swami Atmasthananda, president of the order, at a Kolkata hospital.
Modi also stood among the monks for photographs amidst chanting of Vedic 'shanti mantras'.
He was gifted 'dhoti', shawl and books by the math authorities who also gave him 'prasad' made of 'Payesh' (Bengali sweet dish) and fruits.
At the Dakshineswar Kali temple, located across the Ganga in Kolkata, where Sri Ramakrishna Paramahansa used to live and worship Goddess Kali, Modi offered floral tributes and performed 'aarti' to the presiding deity.
The temple's trustee and secretary, Kushal Chowdhury, said that the PM prayed for strength to develop the country and was gifted a handcrafted replica of the Ashoka pillar, Swami Vivekananda's statue and a locket having a replica of the idol of the Goddess.
The Prime Minister also asked the temple authorities to get in touch with the PMO for upgradation of the temple structure, Chowdhury said.
BJP MP and Union minister Babul Supriyo, party state president Rahul Sinha and Governor K N Tripathi accompanied the PM during the visit.
Situated on the eastern bank of the Ganga, also known as the Hooghly, at Dakshineswar near Kolkata, the temple is famous for its association with Ramakrishna whose mysticism and teachings had a profound influence in 19th century Bengal.
As a young boy, Modi was deeply influenced by theideals of Swami Vivekananda and had decided to join the order as a monk. It was during this time that he had first visited Belurmath.
"But our then president had advised him to concentrate more on his education. He was also below the minimum age required to join the Order," Swami Subirananda, assistant secretary of the math, said.
Later Modi went to the RKM centre in Almora, where his request was turned down again, he said.
"Modi then went to the Himalayas for two years and after that he came back to his village and subsequently started visiting our Rajkot centre where he got the holy company of Swami Atmasthanand, now RKM president. Modi used to get spiritual instructions from him," the monk said.
After Modi expressed his desire once again to be a monk, he was discouraged by the Swami and told that his calling lay elsewhere.
"Modi visited Belurmath in 2013 when he was the Gujarat Chief Minister and he told the Swami, 'Aapne mujhe bhaga diya tha us samay isiliye main aaj mukhyamantri hu' (You had told me to go away that time and that is why I am the chief minister now)," the monks recall.
Last evening he had gone to meet Swami Atmasthananda, president of the order, who is recovering at a Kolkata hospital. When both of them were in Rajkot, Modi used to visit him often to seek spiritual guidance.