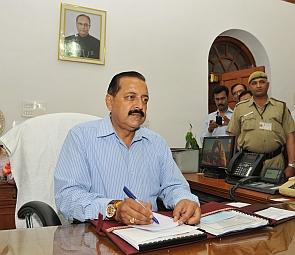 Controversial remarks from Minister of State in Prime Minister Narendra Modi's office about a debate on the relevance of Article 370 that gives a special status to Jammu and Kashmir has evoked sharp reactions from state Chief Minister Omar Abdullah and main opposition Peoples Democratic Party.
First-time Lok Sabha member Jitendra Singh, who was a surprise choice for the Prime Minister's Office, said the Modi government is open to debate on merits and demerits of Article 370 for Jammu and Kashmir and would make efforts to "convince" the "unconvinced" by holding contact programmes with every section of society in the state.
Fifty-seven-year-old Singh, who was elected from Udhampur Lok Sabha seat, said the BJP was working "very professionally" on this issue and has been calling meetings in the Kashmir Valley.
"We have succeeded in convincing some of them (on repealing Article 370)," he told reporters after taking over as the minister for state for the department of personnel and training."
However, his statement drew angry reaction from Omar who shot off his tweets saying Article 370 was the "ONLY Constitutional link" between the state and the rest of the country.
Omar said, "Mark my words and save this tweet -- long after Modi Govt is a distant memory either J&K won't be part of India or Art 370 will still exist."
He wondered over the statement about Article 370 coming so soon. "So the new MoS PMO says process/discussions to revoke Art 370 have started. Wow, that was a quick beginning. Not sure who is talking."
The PDP said the prime minister and the BJP leadership should rein in Singh before his utterances about revocation of Article 370 of the Constitution cause serious damage.
"Singh should realise that his newly-acquired position as a junior minister comes with some responsibilities and the PM should intervene to discipline him. The PMO must clarify the statement to reassure the people of J&K that no mischief is on its way," PDP leader Mehbooba Mufti said in a statement.
Omar also chose to hit out at PDP saying, "What is PDP getting agitated about? They were the ones who worked to benefit BJP in the state with a tacit understanding," he said.
Singh had also made it clear that BJP stood for abrogation of Article 370 but at the same time it wanted to convince the people and have a democratic approach to finding a lasting solution to the issue. "If we do not have debate and discussion, how would you be able to tell those who have been unable to understand what they have been deprived of on account of Article 370?" he said after taking over as Minister of State.
Image: Jitendra Singh takes charge as the minister for state for personnel, public grievances and pensions, in New Delhi. Photograph: PIB
© Copyright 2021 PTI. All rights reserved. Republication or redistribution of PTI content, including by framing or similar means, is expressly prohibited without the prior written consent.