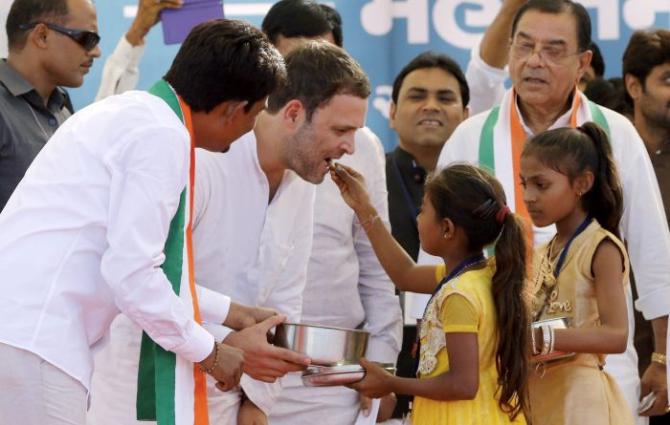 IMAGE: Congress vice president Rahul Gandhi being offered sweets by children during a public meeting in Gandhinagar on Monday. All Photographs: PTI Photo

Congress vice president Rahul Gandhi on Monday dubbed the Goods and Services Tax as 'Gabbar Singh Tax', naming it after Bollywood's iconic villain as he fired a fresh salvo at Prime Minister Narendra Modi over the sweeping tax reform and demonetistion.
As Gujarat headed for Assembly polls, Gandhi also said that the state is 'priceless and can never be bought', a day after Patidar leader Narendra Patel claimed in Ahmedabad that he was offered Rs 1 crore to join the BJP, a charge rubbished by the saffron party.
Gandhi brought up the issue of GST while highlighting the hardships it caused to people during a rally that marked the formal joining of OBC leader Alpesh Thakor into the Congress as part of the opposition party's strategy of broadening its political and social base to take on the BJP which has been in power in Gujarat for nearly two decades.
"Their (Centre's) GST is not GST. GST means Gabbar Singh Tax. This is causing a loss to the country. Small shopkeepers are finished. Lakhs of youths have gone unemployed. But they are still not ready to listen," Gandhi told the rally of Thakor community in Gandhinagar.
Late Amjad Khan portrayed the character of dacoit Gabbar Singh in the Bollywood blockbuster Sholay and immortalised him as the scariest villain in the Indian cinema.
Stating that the GST, in its present form, is not what the Congress had conceived, Gandhi said that although his party had warned the government about the adverse impact of the new tax regime (in the present form), the Modi government acted against its suggestions. Gandhi also asked the government to change the new tax system by making it simpler.
Gandhi also mocked Modi over demonetisation announced by him on November 8 last year.
"Don't know what happened, on November 8, Modiji says that this Rs 500, Rs 1000 notes, I do not like them, so from 12 at night, I am going to scrap it. Ha Ha Ha," he said.
"He hit the axe, and for the first 2-3 days he could not understand what happened," he said, adding that "the prime minister only realised his mistake after 5-6 days".
"Narendra Modi ji ruined the economy of the entire country," he alleged.
Gandhi attacked Modi and the BJP while latching on to the bribery allegation made by Narendra Patel, an activist of the Hardik Patel-led Patidar Anamat Andolan Samiti.
Gandhi said thousands of youths in Gujarat, belonging to all castes, will not remain silent now and their voices cannot be 'suppressed' or 'purchased'.
Narendra Patel, within hours of joining the Bharatiya Janata Party, alleged on Sunday night at a press conference that he was offered Rs 1 crore by the BJP and was given a token amount of Rs 10 lakh.
"This Gujarati voice is not an ordinary voice. This voice of Gujarat cannot be silenced or suppressed. You can offer any thing, (Rs) one crore, (Rs) 10 crore, (Rs) 50 crore, (Rs) 1,000 crore, entire budget of India, entire money of the world, (but) this Gujarati voice cannot be purchased," Gandhi said.
"In the past also, there were attempts to suppress this voice. British tried to suppress Gandhiji, first in South Africa, then in Gujarat and India. But the voice of Gujarat drove out that superpower from the country," he said.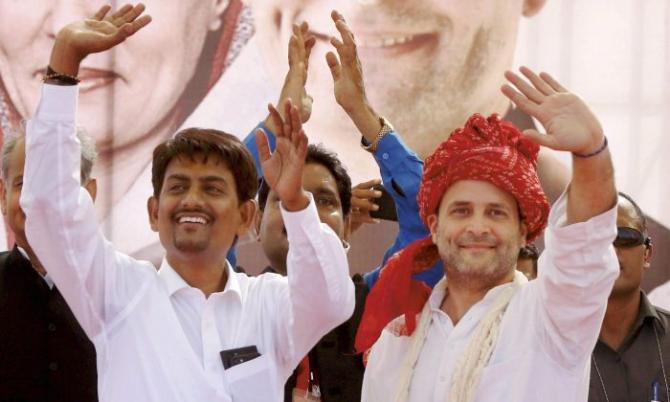 IMAGE: Rahul with OBC leader Alpesh Thakor who joined the Congress recently.
Earlier in the day, Gandhi tweeted to say that Gujarat is priceless and can never be bought.
'Gujarat is priceless. It has never been been bought. It can never be bought. It will never be bought,' Gandhi said on Twitter.
"Sardar Patelji, Gandhiji were from this land and they used to protect the voice of Gujarat," he said.
During Gandhi's speech, Alpesh Thakor asked the crowd to be silent and listen to the Congress vice president's speech.
At this, Gandhi said, "You want to make the crowd silent Alpeshji? But they cannot remain silent. Modiji has harassed them so much that they cannot remain silent."
The rally was organised by Thakor and his supporters.
"There are thousands of youths in Gujarat who cannot remain silent now. They belong to all castes. There are two more youths like you (Thakor) -- they are Hardik (Patel) and Jignesh (Mevani, a Dalit leader). Both of them cannot remain silent," the Congress leader said.
Modi, on a visit to Gujarat last week, mounted a stinging attack on the Congress and the Nehru Gandhi family, saying they disliked Gujarat and Gujaratis who were an 'eyesore' for them.
In his 30-minute speech, Gandhi said, "Every caste is agitating here, I am surprised that everybody is agitating here. They are tired of false promises of the BJP government."
The Congress vice president also targeted Modi and BJP president Amit Shah on the issue of alleged business deals of the latter's son Jay Shah. Amit Shah and Jay have denied any wrongdoing.
"Modiji gave long lectures in Gujarat (during his recent visits), but has not spoken a single line regarding the company of Jay Shah," Gandhi said.
"Modiji Make in India has failed. Only one company has benefited from the Make in India programme. The company was worth of Rs 50,000 and not made any progress till 2014. But after 2014 it grew to Rs 80 crore," he said.
"Modiji just speak one sentence about it. You had said that you will not indulge in corruption and would not allow others to do it, then what is this," Gandhi said.
On last Saturday, Thakor had met Gandhi in New Delhi and later announced that he would soon join the Congress.
The Congress has been wooing leaders of various communities like Hardik Patel, Mevani and Thakor. The party is inviting them to join hands with the aim of expanding its base by securing the support of Patels, OBCs and Dalits, and dent the BJP's poll prospects in its stronghold.
The BJP, however, described Thakor's decision to join the Congress as 'drama', claiming he was already a member of the party, and said Gandhi had 'reduced himself to a gimmick' with such 'desperate' tactics.
BJP leader Ravi Shankar Prasad told reporters in New Delhi that Thakor was a member of the National Students' Union of India, the Congress' student wing, and had contested a panchayat poll on a party ticket earlier.
"A big claim is being made that a major leader has joined the party (Congress). I have often accused Rahul Gandhi of not doing his homework but it seems even his scriptwriter is not doing his homework," Prasad said.
He called the Congress 'dramabaaz party number one' (number one party in dramatics) and said its actions reminded him of Hindi films such as Coolie No. 1 or Aunty No. 1.
IMAGE: Rahul Gandhi takes part in a cultural dance during the meeting. Congress leaders Ashok Gehlot and Bharatsinh Solkanki are also seen.

Thakor's father was also a district president of the Congress in Gujarat, he said.
After facing repeated defeats and being out of power in the state for over 22 years, the Congress had become so desperate that Rahul Gandhi had 'reduced himself to a gimmick', the Union minister said.
Prasad described as 'baseless' and 'scandalous' the Congress's attack on the Election Commission for not announcing the Gujarat poll schedule.
"It is a settled position that the Model Code of Conduct is in force for 45 days," he said. The polls are expected in December.
Taking a dig at the Congress over its campaign built around young leaders such as Thakor joining hands with Gandhi, Prasad referred to the Congress vice president's tie up with Samajwadi Party chief Akhilesh Yadav in the Uttar Pradesh assembly polls, and with Omar Abdullah in the Jammu and Kashmir election.
"He has not learnt from his experience in these polls," Prasad said, referring to the Congress defeat in the elections.
Prasad also dismissed the claims of Narendra Patel, an associate of Patidar leader Hardik Patel, that the BJP had offered him Rs 1 crore to join the party.
"Patel claims to have been offered Rs 1 crore but has shown only Rs 10 lakh," Prasad said, adding that the matter was fishy.
This is also part of the drama, he said, and accused the Congress of practising such inducements. He referred to the alleged cash for vote scandal in Parliament when some BJP members had shown in the Lok Sabha wads of cash, allegedly offered to them to vote in favour of the United Progressive Alliance government during a floor test in 2008.
Then Speaker Meira Kumar had not taken the matter up with the required seriousness, he alleged.
Asked about the display of Rs 10 lakh in cash by Patel when rules prohibit cash transactions of more than Rs 2 lakh, he said the issue could be looked into.
"Lies, corruption and negligence of development have been the history of the Congress," he said.
Accusing the party of obstructing Gujarat's progress, he said it did not provide environmental clearance for a ferry service, which was inaugurated by Prime Minister Narendra Modi on Sunday, when it was in power at the Centre.
Rejecting Gandhi's criticism of the government over its economic and development policies, he said the Congress vice president did not understand the dynamics of either of them.
"These are issues alien to him," he said.
He also dismissed charges against BJP president Amit Shah's son, over his business transactions.
"All allegations against him are false and part of a motivated campaign," he said.