The states fear they would end up funding both their own scheme as well as the newly-announced National Health Protection Scheme.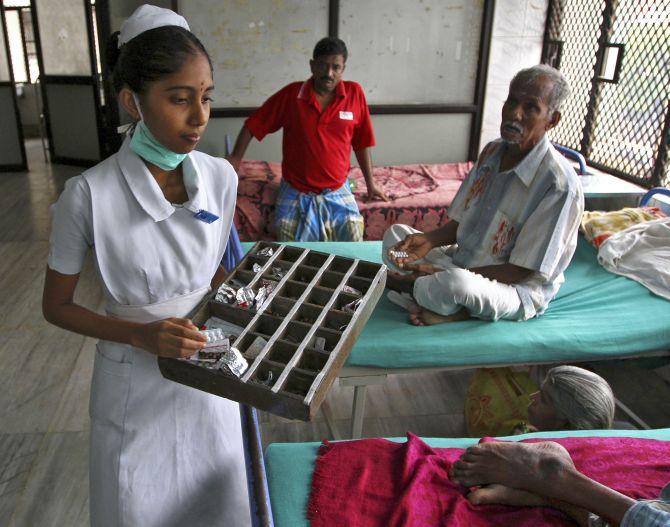 IMAGE: The National Health Protection Scheme -- subsequently dubbed "Modicare" -- will provide health insurance for 500 million Indians. Photograph: Babu/Reuters
The roll-out of the Union government's ambitious new health insurance scheme could face rough patches, as many states, including those with Bharatiya Janata Party governments, are reluctant to withdraw their current schemes in its favour.
In the Union Budget, presented in Parliament on February 1, the Union government said it would introduce health insurance for 500 million Indians, called the National Health Protection Scheme -- subsequently dubbed "Modicare". Under this scheme, 100 million vulnerable families would be provided insurance cover of up to Rs 5,00,000 a year. The states have the option of running it parallel to their own schemes, or merging both, or running only Modicare.
They are, however, not too eager about it.
Even Gujarat, which is Prime Minister Narendra Modi's home state, is less than enthusiastic. "Our government has no plan of withdrawing or curtailing benefits to those who have been receiving it under the current state government scheme," Gujarat Deputy Chief Minister Nitin Patel said.
States, which have to provide for 40 per cent of Modicare's costs, are unwilling to run both schemes together. They believe there would be duplicity of beneficiaries, and they would end up funding both schemes. Beneficiaries of state schemes are also likely to enrol for Modicare because of the higher insurance coverage. Most states provide up to Rs 3,00,000 per family.
The NITI Aayog is meeting state health secretaries on Thursday to discuss the roll-out of Modicare.
They are also not in favour of merging their schemes with Modicare, as the latter does not have many categories that are part of insurance coverage provided by 24 state governments. For instance, the Centre's new scheme is only meant for the poor identified under the socio-economic caste census, 2011.

But Gujarat provides benefit to all with an annual income below Rs 2,50,000, under its Mukhyamantri Amrutam Yojana. Launched in 2012, it also covers reporters and Class-III and -IV employees.

Maharashtra provides benefits to 85 per cent of its population including farmers from 14 districts; Rajasthan's Bhamashah health insurance scheme covers people Below Poverty Line and health workers, among others. West Bengal, which has already opted out of Modicare, provides benefits to workers, self-help groups, police, gram panchayat members, and disaster management teams, among others. Exclusion of these categories can be counterproductive for state governments, especially when the insurance claim ratio is high.
That's perhaps the reason why poll-bound Karnataka -- the last big bastion of the Congress -- has announced a universal health coverage for all 14.3 million families that live within its borders, barely a day after Modicare was announced.

"Ours is an assurance model, theirs (Modicare) insurance. In case of assurance, we are duty-bound to honour our commitments. That's the reason we have also amended the Medical Establishment Act," said Karnataka Health and Family Welfare Minister K R Ramesh Kumar.
Another hurdle the Modicare roll-out is likely to encounter is the uniformity of the scheme.

Currently, states follow one of the three models -- direct reimbursement to beneficiaries; "trust", where the government concerned appoints a national health insurance company to provide medical coverage; and "awards contract" to an insurer with the lowest bid.

Gujarat directly reimburses the beneficiaries and claims to have honoured all claims it has ever received. Rajasthan and Maharashtra have appointed state insurance companies. Modicare allows states to choose any method they like, but they would have to restart the process of selecting an insurer.

Maharashtra Chief Minister Devendra Fadnavis, however, is hopeful that Modicare will reduce cost of the states.

"The central scheme will help us increase coverage and bring down costs. We will make both schemes supplementary. Our burden will be shared to a great extent by the central scheme," Fadnavis said in a text message, responding to queries.

-- Sohini Das from Gujarat, Bibhu Ranjan Mishra from Karnataka, Sahil Makkar from New Delhi, Aneesh Phadnis from Maharashtra, Namrata Acharya from West Bengal, Gireesh Babu from Tamil Nadu, and Dasarath Reddy from Andhra Pradesh contributed to this piece