'Well begun is half done, today there are more hits than misses by the Modi government in its support towards science in India,' says Pallava Bagla.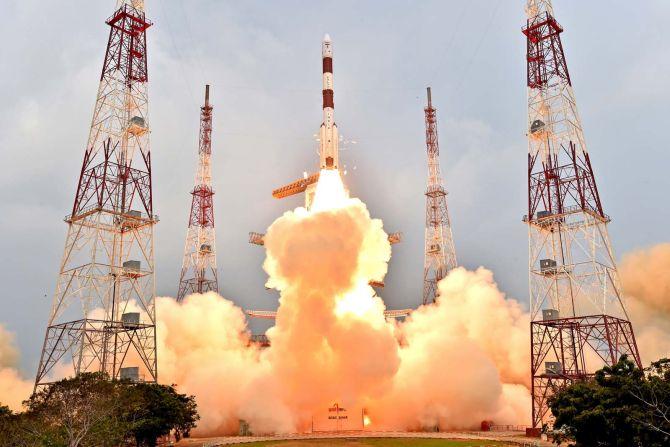 Is the glass of science half-full or half empty by way of support for science and technology-related activities in the first two years of the Narendra Modi government?
Half-full would be a more appropriate phrase, but holes due to a lack of legislative business are draining the gains that could have actually accrued faster.
There can now be no doubts that the Modi government, which completed two years in office, believes in the intrinsic value of supporting India in science and technology.
Being a right-leaning government, there were many apprehensions that the National Democratic Alliance dispensation would put roadblocks to the development of modern science with its leaders probably harping more on old Hindu philosophy and glories of India as a powerhouse in ancient Vedic times.
While some of that did take place, by and large, the focus has remained on how to mainstream the benefits accruing from indigenous innovation to the common person.
Early in his term, almost within a month, Modi himself set the tone when he was sighted at the Indian space port to witness the launch of a rocket and then he gave a stirring speech from there on June 30, 2014 on the launch of the Polar Satellite Launch Vehicle, where he called the Indian scientific community 'brilliant.'
This was the first time the erstwhile 'chaiwallah' Modi used a teleprompter in the public as prime minister and showed that he could woo India using modern technology. In quick succession, he also embraced and engaged with the nuclear scientists and the agriculture community.
That the government withstood two back-to-back failed monsoons and did not let the spirits of the Indian public fall showed that 'policy paralysis' was a thing of the past.
To Modi's credit, he has appointed as ministers for science politicians who have a deep understanding of the sector. The first science minister was Jitendra Singh, a specialist on diabetes who has published several books on medical science.
In a reshuffle in November 2014, Harsh Vardhan, a soft-spoken, well-meaning politician who connects easily with mercurial Indian scientists, was brought in as the Cabinet minister for science. A junior minister in Y S Chowdary, an industrialist-turned-politician, was also sworn in.
Since then, Dr Vardhan, whose first love is undoubtedly health and a man better known for eradicating polio from India, has relentlessly toured many laboratories to pump up the morale of the scientists.
To take stock of the living conditions of scientists, Dr Vardhan even spent a night on India's research ship Sindhu Sadhana, cruising the depths of the Arabian Sea. A man of deep convictions, he is probably the only minister who says 'he prayed that a scientific forecast by his own ministry would go wrong' after the India Meteorological Department had predicted a drought in 2015.
Gods did not favour him then, but, hopefully, his prayers that 2016 be a good monsoon year come true.
Modi has earned the wrath of high-ranking Indian boffins since, much to the annoyance of many top Indian scientists, he has all but abandoned the high profile Science Advisory Council to the Prime Minister, even though the outgoing chairman of the SAC-PM C N R Rao had openly endorsed Modi by saying, 'He is definitely a man with vision, there is no question that he wants to do something. We hope he will not only use good advice and all the wonderful ideas he has. He is obviously a doer when you listen to him; there is nothing wrong in what he says. What Modi says is perfect.'
It's a rare endorsement from a scientist who has had a long-long innings with Congress-led governments. It is not as if all has been hunky-dory under the Modi-Vardhan combination, there are several important S&T related legislations that are lying in cold storage that need to be passed soon.
The National Biotech Regulatory Authority Bill has been pending for a long time and there is no sign of it seeing the light of day. As a consequence, application of biotechnology is suffering since the government is unwilling to take a decision on releasing more genetically modified varieties of crops into the farmer's fields.
Dr Vardhan also needs to clarify once and for all if he wants the Indian biotech industry to grow by $20 billion (Rs 134,000 crore) a year or by $10 billion (Rs 67,000 crore).
Similarly, the Human DNA Profiling Bill seems to have been still born.
On the money front, scientists in India were preparing for the worst a drastic cut in the budgetary allocations. However, Finance Minister Arun Jaitley surprised them in 2016 by being benevolent and has given the ministry of science and technology a Rs 811 crore (Rs 8.11 billion) increase in the central plan outlay, as compared to the last fiscal, which represents an upswing of about 11 per cent.
The Department of Biotechnology came out getting a Rs 193 crore increase, which represented a 12 per cent increase over the last fiscal.
The Department of Scientific and Industrial Research, which also accommodates the massive Council of Scientific and Industrial Research having a network of 37 labs, came worst off with an almost flat budget.
Even then, there was also reason for some huge relief since in 2015, at a meeting in Dehradun of all directors of CSIR, Dr Vardhan had pushed through a proposal that 'all CSIR labs to make efforts to be self-financing in next 2 years.'
This had sent shock waves among the 16,000 staff, who felt that the CSIR would soon become a low-cost contract research organisation and the lofty goals of doing 'blue sky research' could be given a go by.
Scientists like Syed Hasnain, a biotechnologist at the Indian Institute of Technology-Delhi, say "high profile medical research facilities like the Indian Council of Medical Research have declared a research holiday since no funds are available."
In contrast, Health Minister J P Nadda says there is no shortage of funds for the health sector, but it is a lack of timely utilisation that bothers him.
No doubt that Modi is a space buff and it was at Sriharikota on June 30, 2014, that Modi mandated the Indian Space Research Organisation to make a 'SAARC (South Asian Association for Regional Cooperation) Satellite' for use by our neighbours as a gift from India, a proposition that even took the then ISRO leadership by complete surprise.
Modi's good intentions were put paid as, in less than two years, the satellite was renamed South Asia Satellite as Pakistan refused to back this initiative. However, ISRO forges ahead and hopes to launch the friendly communications satellite by the end of this year.
Meanwhile, at less than Rs 1,500 crore (Rs 15 billion) and using just seven satellites in orbit, ISRO has given India the satellite-based navigation system or Navigation with Indian Constellation.
Most recently, a few days before the Modi government's second birthday, ISRO successfully launched a 'swadeshi space shuttle,' a technology that promises to lower launch costs by 10 times.
In less than 60 days of assuming office as prime minister on July 21, 2014, Modi himself flew into India's main nuclear facility, the Bhabha Atomic Research Centre in Mumbai, to take stock of the country's nuclear capabilities.
Usually, PMs are quietly briefed about India's prowess in this area, but to make sure the world knows that he has his fingers firmly on India's nuclear trigger Modi spent a whole afternoon inside BARC.
Modi expressed his strong appreciation for the Indian scientific community's extraordinary achievements. Despite this unique visit, the Nuclear Safety Regulatory Authority bill has not been taken up by the government with the right earnest, even though other amendments that needed to be made for commercial use of nuclear energy have sailed through Parliament.
Modi has also not been able to ink any deal to buy and instal any foreign atomic reactors in India.
At the same time, the high-profile 'Make in India' programme has left many scientists confused on what will then happen to 'Made in India,' towards which the science ministry needs to upgrade its science, technology and innovation policy, which remains a work in progress.
Experts have said that unless Indian scientists discover and innovate in India, 'Make in India' would remain a mere slogan.
Buck up Mr Modi, your time is fast running out, the honeymoon period is over and the Indian public seeks deliverables.
Well begun is half done, today there are more hits than misses by the Modi government in its support towards science in India.
IMAGE: The PSLV C31 takes off. Photograph: ISRO
© Copyright 2021 PTI. All rights reserved. Republication or redistribution of PTI content, including by framing or similar means, is expressly prohibited without the prior written consent.