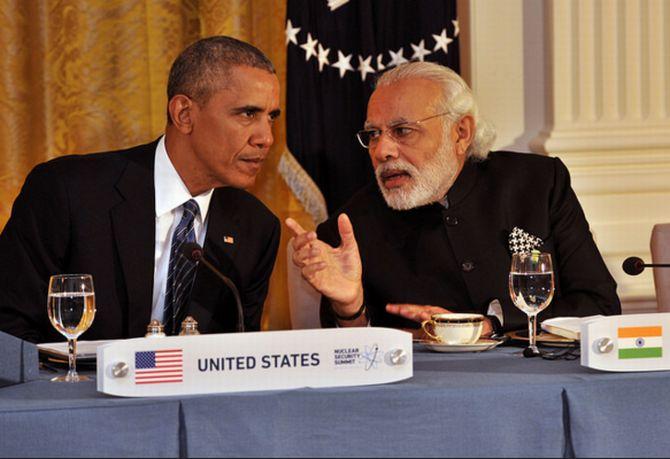 Prime Minister Narendra Modi will on Friday engage with top world leaders including from Canada, Britain, Japan in a series of bilateral meets in Washington, DC on the sidelines of the Nuclear Security Summit, where he would outline India's roadmap and measures taken to ensure nuclear security.
He is expected to start the day with a bilateral meeting with Canadian counterpart Justin Trudeau, which would be Modi's first meeting with Trudeau after he was recently elected as Canada's prime minister.
This would be followed by back-to-back meetings with British Prime Minister David Cameron and Argentinian President Mauricio Macri.
Cameron is meeting Modi at a time when he is facing the prospect of job loss to some 20,000 people after India's Tata Steel decided to sell its loss-making UK businesses.
After the three bilateral meetings, Modi would participate in the three separate sessions of the Nuclear Security Summit, which kicked off with a White House dinner on Thursday night.
The sessions are on national actions to enhance nuclear security, international and institutional actions to strengthen nuclear security and scenario-based policy discussion.
"The prime minister will be outlining India's roadmap, India's vision and the measures India has taken to ensure nuclear safety and security," External Affairs Ministry spokesman Vikas Swarup told reporters.
Later, Modi is scheduled to meet Switzerland President Johann N Schneider-Ammann.
He would conclude his two-day trip to Washington by meeting his close friend and Japanese Prime Minister Shinzo Abe.
Modi arrived in the United States on Thursday morning for the Nuclear Security Summit being convened by US President Barack Obama and attended by leaders from more than 50 countries, with heads of state from over 20 nations.
On Thursday, the prime minister had a bilateral meeting with his New Zealand counterpart John Key.
At the White House dinner hosted by Obama for visiting leaders, Modi in an intervention said that without prevention and prosecution of acts of terrorism, there is no deterrence against nuclear terrorism.
'Interacted with world leaders at the NSS dinner at the White House. Shared my thoughts on the threat of nuclear terrorism,' Modi tweeted late in the night on his return from the dinner.
Soon after his meeting with Abe, Modi would leave for a two-day state visit to Saudi Arabia.
Image: Prime Minister Narendra Modi with US President Barack Obama in Washington, DC on Thursday. Photograph: @MEAphotogallery/Flickr
© Copyright 2022 PTI. All rights reserved. Republication or redistribution of PTI content, including by framing or similar means, is expressly prohibited without the prior written consent.