Making his debut in West Bengal in the current camp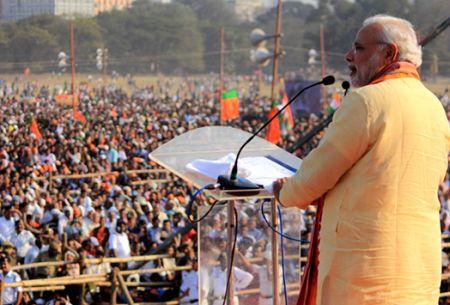 aign, Bharatiya Janata Party's PM candidate Narendra Modi on Wednesday launched a blistering attack on the Left parties and the Third Front, saying they will make India a "third rate" country.
Addressing a big rally, he blew hot and cold against Trinamool Congress and its leader Mamata Banerjee apparently in a bid to woo her post elections.
Trying to strike a chord with the people of Bengal, he accused the Congress of denying Pranab Mukherjee, now president, the prime minister's post in 2004 even though he "deserved" the chair.
Modi was severe in his criticism of the Left parties and their partners, saying they have destroyed the eastern region of the country by their rule while western India has shown progress because they had never ruled that region.
"These people (Left and its associates) who do politics in the name of secularism practice the politics of vote-bank by misleading Muslims. They destroyed the eastern region. You must banish them from the Indian politics forever," he said in a speech interspersed with some sentences in Bengali.
The BJP's prime ministerial candidate was critical of Banerjee in the beginning, asking people if the promised "poribartan (change)" had come and do they feel whether things have changed. "People are still waiting for it."
However, later he softened, saying after the assembly elections you have an elected government under Banerjee. He said people can experiment by electing BJP candidates in all the 42 Lok Sabha seats. Let TMC do the job in the state and BJP in the Centre, he said.
"Bengal has always given direction to the country. You elect BJP candidates from all Lok Sabha seats. TMC government will do its job here. You hold them accountable for the work in the state and me for the work in the country. Let there be competition.... West Bengal government alone cannot change the state's fate. You will need Delhi's help as well.
"It will be a win-win situation for you with me at the Centre, Mamata Banerjee in the state and Pranab da to supervise us," he said.
Modi reserved his sharpest barbs for the Left parties, which are also Banerjee's foremost rivals, and their allies. He said they come together before elections and remember the poor and sing paeans to secularism. "The Third Front's intention is to make the country third rate," he said.
Accusing them of spreading "canards" against Gujarat, he said the per-capita income among Muslims is the highest in the state. There were over 37,000 applicants for 4,800 seats allotted to the state under the Haj quota while Bengal had only 12,000 applicants for 11,600 seats, he said.
Congress, he said, first denied Mukherjee the PM's post in 1984 after Indira Gandhi's assassination when he was the senior-most Cabinet minister and Rajiv Gandhi even dropped him from his Cabinet.
"When Sonia Gandhi declined to become PM in 2004, it was natural that Pranab da should have been given the opportunity but he was denied again," he said.
Modi invoked Bengali greats like Swami Vivekananda, Rabindranath Tagore and Subhash Chandra Bose to connect with the crowd and paraphrased Bose's famous slogan to tell people "tum mujhe saath do, main tume suraj dunga (You give me help, I will give you good governance)".
"Vivekanand dreamt of India becoming the 'jagadguru' (world leader). India was the world leader centuries ago. But we forget that it happened when Bengal was the nation's leader.... You must take the lead and vote for a party which can transform Bengal once again," he said.
He also raked up the issue of Bangladesh residents living illegally in the state, saying they were denying the jobs to Indian youth and cornering resources meant for Indians.
Quoting figures, he said West Bengal has become a laggard state and asked people to turn around its fortune by voting for him.
Image: Narendra Modi addressing supporters at Kolkata's Brigade Parade Ground on Wednesday
Photograph courtesy: Narendra Modi's website