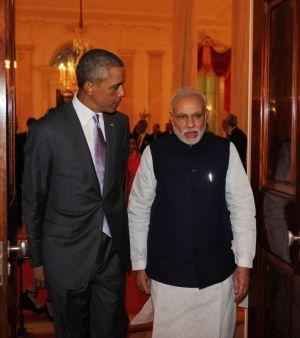 US President Barack Obama, who visited India in January, in his speech on Thursday referred to violence against followers of various religions in India in the past few years.
While Obama, did not name any particular religion -- he said religions of all faiths have been attacked in the past few years, many have interpreted it as a scathing critique at a time the Modi government has been accused of not reining in individuals and groups seen to promote a pro-Hindu agenda.
The Congress and Aam Aadmi Party are using Obama's comments to take digs at Prime Minister Narendra Modi.
"Michelle and I returned from India -- an incredible, beautiful country, full of magnificent diversity -- but a place where, in past years, religious faiths of all types have, on occasion, been targeted by other peoples of faith, simply due to their heritage and their beliefs -- acts of intolerance that would have shocked Gandhiji, the person who helped to liberate that nation," Obama said in his address to the National Prayer Breakfast.
"I think Modi will answer this, they are very good friends," AAP leader Arvind Kejriwal said when asked his response to Obama's comments

The Congress too was also vitriolic in its attack. "Did the Prime Ministerial Tea reinforce Barrack's understanding of the revival ism & intolerance intrinsic in the BJP govt Another stinker? (sic)" tweeted the party's Manish Tewari.
But the BJP tried to downplay President Obama's comments. "I think President Obama's comments are not in reference to any community. He was referring to general intolerance," said party leader GVL Narasimha Rao.
The White House on Wednesday had strongly refuted allegations that Obama's remarks on religious tolerance were aimed at the ruling BJP, saying the speech in its entirety was about the "core democratic values and principles" of both the US and India.
During his India visit in a US-style Town Hall address in New Delhi on January 27, the last day of his trip, Obama had made a strong pitch for religious tolerance, cautioning that India will succeed so long as it was not "splintered along the lines of religious faith".