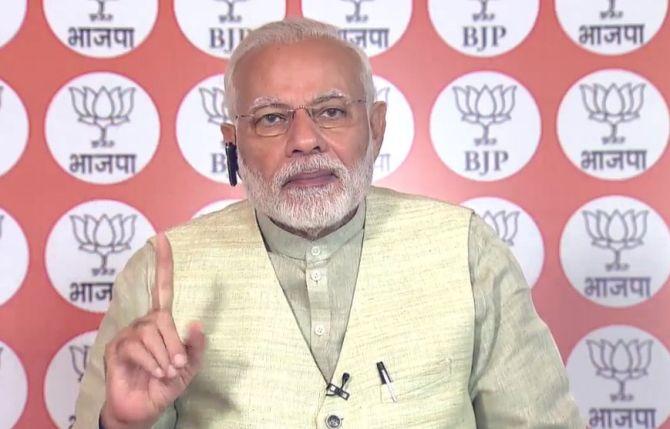 Prime Minister Narendra Modi on Wednesday came down hard on the Siddaramaiah government in poll-bound Karnataka for being 'indifferent' to farm distress and not implementing the crop insurance scheme effectively and stressed that welfare of farmers was his government's top priority.
With his own government under attack over agrarian distress in several states, including Karnataka, Modi sought to assuage the concerns of the farming community.
"As part of our holistic approach to agriculture, from purchase of seeds to reaching the farm produce to markets (beej se bazaar tak) we are working towards making farmers strong," he told Bharatiya Janata Party Kisan Morcha workers in an interaction with them through the 'Narendra Modi' app.
He assailed Karnataka's Congress government over its alleged indifference towards implementing the crop insurance scheme to insulate them against crop loss.
"I keep getting complaints regarding Pradhan Mantri Fasal Bima Yojana from Karnataka, but one of our MPs has done a great work in his constituency with the help of Kisan morcha workers," he said.
He, however, did not name the MP.
"The Karnataka government is indifferent...it does not care about the benefits that a farmer can get from the Pradhan Mantri Fasal Bima Yojana," he said.
Karnataka has seen three seasons of drought over the last five years resulting in huge crop loss.
Modi said had the state government been proactive, it could have tackled the drought and helped farmers to tide over the loss.
The prime minister had on Tuesday launched his campaign blitz in the state where he addressed three back to back rallies. He will be in Karnataka again on Thursday.
He asked the Kisan Morcha volunteers to reach out to farmers and convince them that the BJP, if voted to power, will be sensitive to their problems.
"You have to give them the confidence that there should now be a government that is sensitive about them, that understands their problems. The welfare of farmers is our primary responsibility."
Noting that even the media described his government's budgets as pro-farmer and pro-agriculture, the prime minister said, "Their welfare has always been our legacy, our nature. It has been our way of thinking."
"The Congress only shows lip sympathy to farmers....they only speak about them in their speeches," he said.
Assailing the Siddaramaiah government for its alleged failure in tackling drought, Modi said instead of mitigating the suffering of farmers, it gave parched lakes to builders for construction activity.
"Helping and serving farmers is an opportunity that comes with good fortune, but the Karnataka government's game is only to do politics in the name of farmers, instigate them, and spread false information," he said, asking the Kisan Morcha to combat the Congress's 'misinformation' campaign.
Calling BJP's chief ministerial candidate B S Yeddyurappa a 'farmer leader', Modi said his vast experience and commitment to the farming community will strengthen the Centre's mission to give a fresh impetus to agriculture.
"The people of Karnataka are well aware of Yeddyurappa's commitment to farmers. The BJP government that will come to power and the BJP government in Delhi that is committed to the cause of farmers will work together to bring a change," he said.
Talking about the 'integrated and holistic' approach of his government towards agriculture and farmers, Modi said from land and water conservation, to making available good quality seeds and electricity, his dispensation looked at them carefully.
Talking about the steps taken by his government, the prime minister said it increased the minimum support price of farm produce one-and-a-half times the cost of production.
He said empowering farmers, villages and agriculture is critical to the country's economy to ensure that farming becomes profitable and inspires the young generation to take it up as a profession.
Responding to a question by a Kisan Morcha activist, Modi said the 'karyakartas' (workers) should tell farmers with
confidence that their income will be doubled by 2022.
He said besides giving a fresh push to green and white revolution (agriculture and dairy farming), the government is working on blue revolution (fish farming), sweet revolution (bee keeping), solar and organic farming revolution to help raise farm income.
The prime minister is expected to interact with Mahila Morcha, SC/ST Morcha and Yuva Morcha activists of the Karnataka unit of BJP through his app over the next few days before May 12 polls.