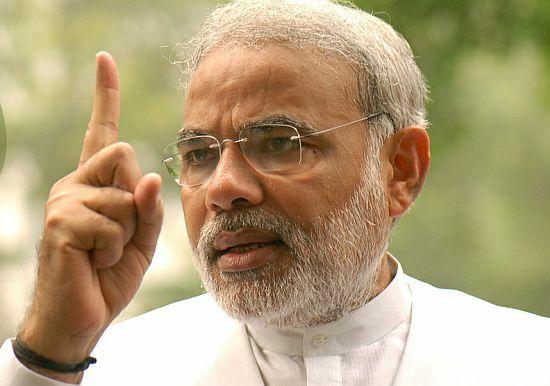 Gujarat Chief Minister Narendra Modi on Tuesday attacked Prime Minister Manmohan Singh for delaying the approval for installation of gates at Sardar Sarovar dam, and requested him to at least heed the demand of state Congress leaders on the same.
"I congratulate Gujarat Congress leaders, who met Prime Minister on this issue. My question (to prime minister) is even if you don't want to listen to me, listen to them (your leaders). At least, listen to your party leaders," Modi said, while addressing farmers at the country's biggest 'Krushi Mela' at Khodaldham temple premises in Kagvad village.
"I urge the PM and the Gujarat Congress leaders to leave politics aside and give us permission to install gates on Sardar Sarovar Dam. For five years, this work has been pending," he said, criticising the PM for being slow in decision-making.
"I don't know the reason why they are not allowing to install gates on the dam. It will at least take three years to complete installation of gates on the dam," the BJP's prime ministerial nominee said.
The Sardar Sarovar dam project, for which the foundation stone was laid by the country's first Prime Minister Jawaharlal Nehru, has been delayed due to agitation on rehabilitation of the displaced people due to construction of the dam.
Stressing on the urgent need of water (for agriculture) to the farmers, he said, "Farmers require water to fulfil their dreams. They give gold in return (in form of agricultural produce). There is no need to give credit to Modi for this. All governments (Congress, BJP, Janata Morcha) have worked for it."
"Shall I give it in writing that I don't need credit for it? What more shall I do? My farmers in Gujarat require water," he said.
Hailing nation's first Home Minister late Sardar Vallabhbhai Patel for keeping India united, Modi said that Junagadh has been part of the country only because of him.
"Sardar lived for the country and because of his efforts, India remained united. We cannot imagine a united India without Sardar Patel. We would have had to seek visa to go to Junagadh or to visit Gir forest if Sardar had not been there," he said.
"We could not have imagined Gandhiji without Sardar Patel. His contributions to India's freedom must not be seen from the prism of politics, that he belonged to the Congress
party. Patel integrated the farmers of the nation for the freedom struggle," he said, adding that it is the responsibility of each citizen to honour and appreciate every leader's contribution.
Stressing on value addition in agriculture, Modi said, "Land is not going to increase. It is about increasing productivity, getting more from the land. Value addition will always help and the farmer will gain more."
Highlighting the need for farmers to understand the importance of micro-irrigation, he said they should focus on water conservation and adopt scientific approach to produce more crops on less agricultural land.