Prime Minister Narendra Modi on Friday conveyed to his Australian counterpart Anthony Albanese India's concerns over the recent incidents of attacks on temples in Australia and pro-Khalistani activities in that country even as the two leaders vowed to conclude a Comprehensive Economic Cooperation Agreement (CECA) besides ramping up defence ties.
After the first India-Australia summit talks, Albanese said both sides are looking at firming up the CECA by 2023 and that progress has been made on a migration and mobility pact that will benefit students and professionals.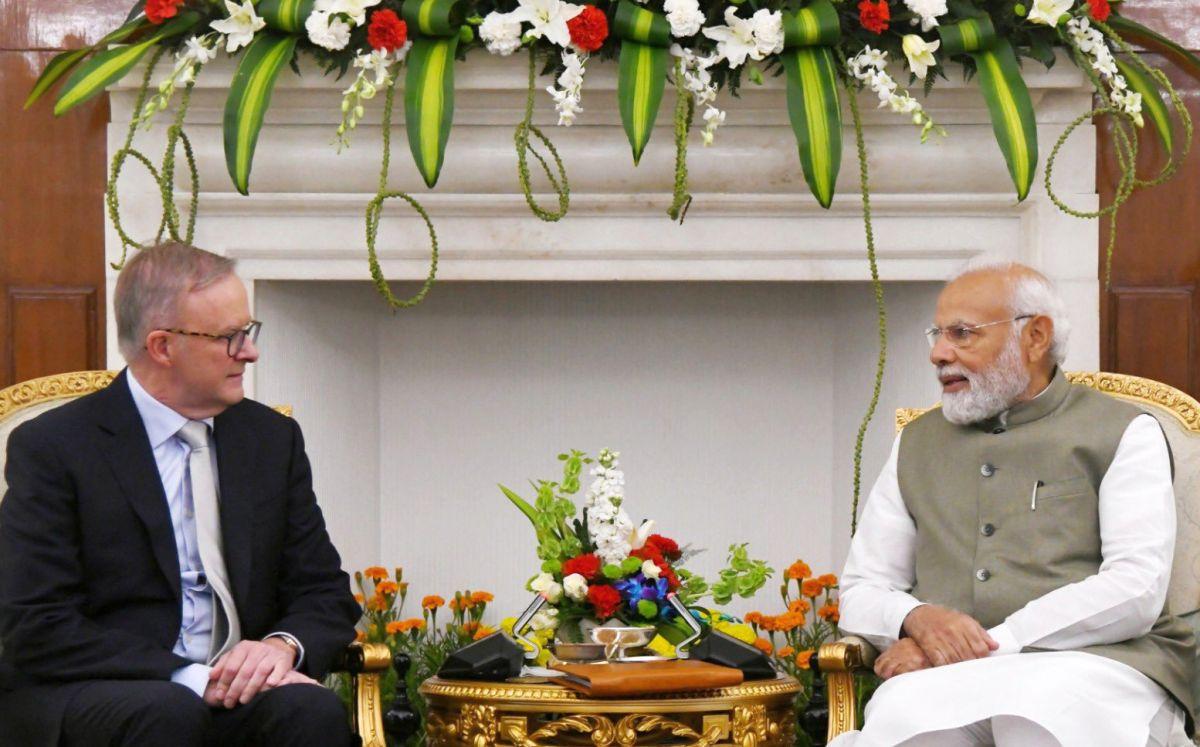 In his media statement, Modi, in presence of Albanese, referred to the contribution of the Indian community in Australia and described as a "matter of regret" the reports of attacks on temples in Australia over the past few weeks.
"It is a matter of regret that reports of attacks on temples have come regularly from Australia over the past few weeks. It is natural that such news worries everyone in India, disturbs our mind," Modi said.
"I conveyed these feelings and concerns to Prime Minister Albanese and he has assured me that the safety of the Indian community is of special priority for him. Our teams will be in regular contact on this matter, and will cooperate as much as possible," he said.
At a media briefing, Foreign Secretary Vinay Kwatra said that there were discussions on the disturbances created by pro-Khalistani outfits in Australia as well, adding Modi expressed strong concern on the incidents of vandalism and violence targeting the Indian community and temples in that country.
Kwatra said Albanese assured Modi that his government has a deep understanding and appreciation of India's concerns and will be taking all necessary measures to ensure that peace and harmony prevails in the society.
"Our concerns and our sentiments both relating to the incidents of vandalism of temples and the of pro-Khalistani activities in Australia were shared very frankly with the prime minister of Australia who in-turn assured that they would look into this and take whatever is the suitable measures they need to take to address and mitigate this challenge," he said.
The foreign secretary said it was agreed at the talks that the officials on both sides would stay in regular touch with each other on these matters.
The two sides inked four agreements providing for cooperation in areas of sports, innovation, audio-visual production and solar power following the talks between Modi and Albanese.
Kwatra said the talks covered a range of regional and global issues of importance and the two leaders discussed the strategic convergence and common interests between the two countries including in the Indo-Pacific region.
In his remarks, Modi said the ECTA between the two countries has opened up better opportunities for trade and investment between the two countries and "our teams are also working on the Comprehensive Economic Cooperation Agreement".
The discussions were focused on boosting cooperation in clean energy, trade and investment, defence and security, critical minerals, migration and mobility, supply chains, education, culture and sports.
"The overall atmosphere of discussion was extremely positive, productive and engaging. The leaders were happy with the progress achieved in our multifaceted bilateral cooperation with the engagements and outcomes revolving around sectors of education, energy, sports, defence innovation and technology," Kwatra said.
The foreign secretary said "significant progress" has been made in the discussions on migration and mobility partnership agreement.
In his comments, Albanese said Modi and he agreed on concluding the India-Australia Comprehensive Economic Cooperation Agreement (CECA) as soon as possible.
"I am hopeful that we will be able to finalise it this year," the Australian prime minister, who is on a three-day visit to India, said.
Last year, India and Australia finalised the Economic Cooperation Trade Agreement and it came into force in December last. The two sides are now working on the CECA.
Modi said the bilateral security cooperation is an important pillar of India-Australia comprehensive strategic partnership.
"Today we discussed maritime security in the Indo-Pacific region, and enhancing mutual defence and security cooperation," he said.
It is understood that concerns over China's increasing military assertiveness in the Indo-Pacific figured in the discussions.
"In the field of defence, we have made remarkable agreements in the last few years, including logistics support for each other's militaries. There is also regular and useful exchange of information between our security agencies, and we discussed further strengthening this," Modi said.
The prime minister also noted that mutual cooperation to develop reliable and strong global supply chains also figured in the discussions.
In his remarks, Albanese described his country's relationship with India as "multi-faceted" and said he was looking forward to hosting Modi in Australia for the Quad leaders' summit in May and then returning to India in September for the G20 summit.
"Prime Minister Modi and I discussed the strength of our economic relationship demonstrated by the entry into force of the landmark India Australia economic cooperation and trade agreement," he said.
On the comprehensive economic cooperation agreement, he said this "transformational deal" will realise the full potential of the bilateral economic relationship.
"I am proud of the existing cooperation between Australia and India on solar and hydrogen, two technologies that are critical to our energy transition goals and the opportunities for us to work more closely to secure critical mineral supply chains," Albanese said.
"I'm pleased that today we have exchanged terms of references for the Australia India Solar Task force," he said.
The visiting leader said Modi and he discussed the increasingly uncertain global security environment and committed to strengthening the Australia India defence and security partnership to address shared challenges as well as to work towards an open, stable and prosperous Indo Pacific.
"I welcome increased defence information sharing between Australia and India, including in the maritime domain," he said.
Albanese said Australia is honoured to be hosting the Malabar naval exercise this year.
"I am also pleased to report that officials have made significant progress on a new migration and mobility partnership arrangement. This arrangement will promote and support the mobility of students, graduates, academic researchers, business people and other professionals," he said.
"I am pleased to have exchanged a revised sports memorandum of understanding today which will promote cooperation between our sport-loving nations, including recognising equality, diversity and inclusion in sports," he said.
© Copyright 2023 PTI. All rights reserved. Republication or redistribution of PTI content, including by framing or similar means, is expressly prohibited without the prior written consent.