Prime Minister Modi addressed a rally in Mathura's Chandrabhan village, the birthplace of Jan Sangh ideologue Deen Dayal Upadhyay.
The rally is the first of the ruling Bharatiya Janata Party's 200 rallies to mark the first anniversary of the National Democratic Alliance government at the Centre.
Here are highlights from his speech: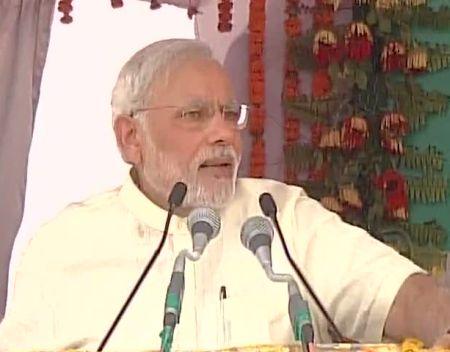 1) There is Shree Krishna in every part of this land
2) A year ago you made a decision, after 30 years you elected a government with a clear majority. Today, this government completes one year
3) This government is for the poor, working for the welfare of the poor
4) After 365 days, I wanted to acknowledge the source of that inspiration -- the person who inspired us to work for the person at the lowest strata of society
5) Would the plight of India have changed if the UPA were in power?
6) I want to ask you today; Didn't I deliver on my promises? Loot has been put to an end or not?
7) Last year, the issue was coal scams, this year it is about auctions and money that has been raised for the state coffers
8) Those who looted the country, they will not have 'achche din' but only 'bure din'
9) I will not be pradhan mantri (prime minister) but pradhan santri (prime guard)
10) The middlemen are a thing of the past and days of those who looted the treasury are over
11) We opened bank accounts for the poor. The poor were not given the opportunity to enter banks for so many years
12) In the past 60 years, scores of farmers died. We do not want to do politics on it. The farmer knows how to work hard. We decided that we will give every farmer in the next three years soil health card
13) We are making efforts so that farmers of nation get adequate water, electricity and land
14) I had promised 'maximum governance, minimum government' and I have fulfilled that promise. I have brought change
15) We have taught India to trust its citizens
16) When I came to power I learnt Rs 27,000 crore was in the treasury and rotting. It was the money of the poor which had been deducted (as PF) and was unclaimed
17) During last elections I had said, that if I had my way I would end one law every day. In the coming days, 1,300 laws will be abolished
18) There were so many people who never got pension. Ours is a government dedicated to the poor and we decided to give adequate pension
19) Now the world trusts India and this is bringing investment in India
20) If India has to fight poverty, the youth of the nation must get employment opportunities
21) Six lakh more tourists came to the country compared to the last year, which gave more employment opportunities to the youth
22) We started the Clean India mission. It's not the rich who suffer due to unhygienic conditions. It's the poor who suffer from a dirty environment and fall ill. I want to end that
23) I am raising an army against poverty
24) We will get rid of poverty, make our nation economically stronger, make our nation proud globally