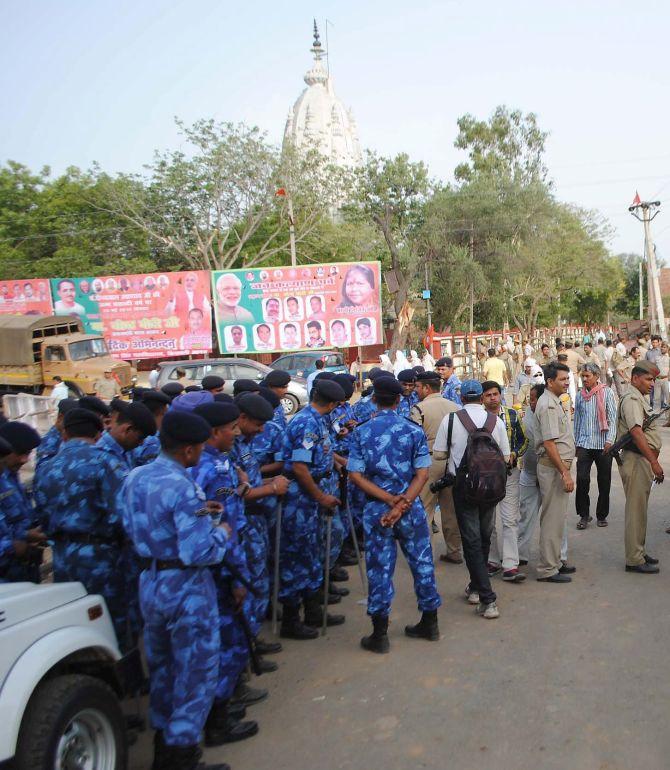 Policemen and RAF personnel stand outside rally venue in Mathura. Photograph: PTI

Preparations are in full swing for Prime Minister Narendra Modi's rally in Uttar Pradesh's Mathura, which will mark beginning of the Bharatiya Janata Party's celebration of its first year in office. The rally will be the first of 200 rallies to be held by the party.
Celebrations would commence from the native village of Jan Sangh leader Deen Dayal Upadhyay in Mathura. Modi will address the mega rally at village Nagla Chandrabhan, which is Upadhyay's birth place.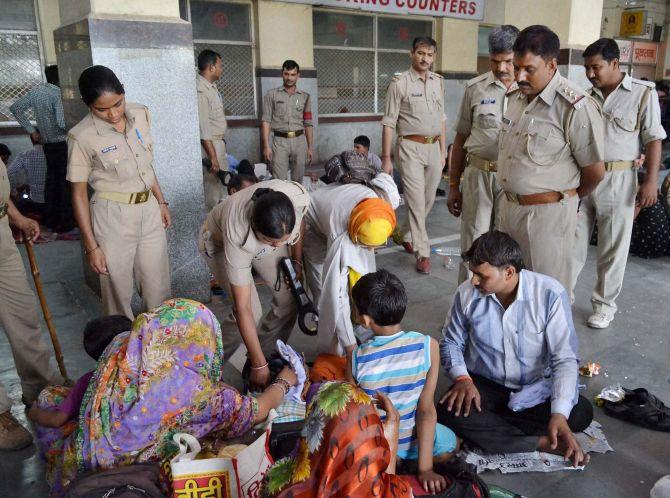 Police officials check luggage of passengers at Mathura railway station ahead of Prime Minister Narendra Modis rally. Photograph: PTI

Modi, who will arrive at a helipad in Mathura at 3.45 pm on Monday, will spend some time at the memorial of Bharatiya Jana Sangh leader Deen Dayal Upadhyaya. He is likely to announce implementation of the one rank one pension scheme concerning ex-servicemen at his rally in Mathura on Monday to mark one year of his government.
He will leave for Delhi later in the day.
Over 3 lakh people are expected to attend the rally.

Tight security measures have been put in place for the PM's visit. According to reports, eight companies of Provincial Armed Constabulary, five companies of Rapid Action Force would be deployed in addition to seven superintendent rank officers, two additional SPs and 19 Deputy SPs at the venue of the rally.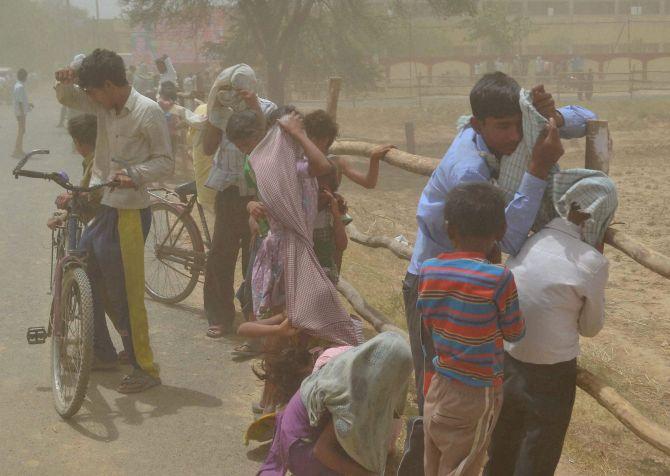 Children try to protect themselves from dust during trial landing of a helicopter at the rally site. Photograph: PTI

About 100 civil police constables, 35 traffic constables and 12 inspectors and sub-inspectors will be stationed in Mathura and Nagla Chandrabhan village.
One PAC company for flood relief would be deployed for river patrolling along the Yamuna which flows through Mathura.
BJP UP chief Laxmikant Bajpai, along with other senior party leaders from the state, on Sunday visited the venue to take stock of the arrangements.