The government says MPs will be busy campaigning in Gujarat.
The Opposition counters this, saying campaigning for elections in 5 states was held in the midst of the Budget session earlier this year.
Archis Mohan reports.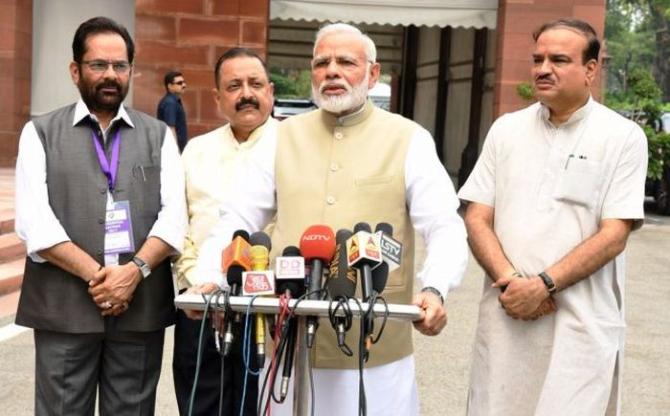 Thousands of workers protested against the Narendra D Modi government's economic policies barely a kilometre away from Parliament on Thursday, November 9, while a conglomeration of farmer organisations announced its plan to gather at the same location to highlight farm distress on November 20.
These protests had been decided months in advance to coincide with the winter session of Parliament. But there is little clarity on the dates and duration of the winter session, which usually begins in the second or third week of November.
Opposition parties have expressed their fears over possibilities of the Modi government scrapping the session altogether or convene a brief session after polling was over in Gujarat.
Government sources have maintained that most MPs would be busy with campaigning in Gujarat, which will lead to poor attendance during the session.
Opposition leaders have pointed out that campaigning for elections in five states, including Uttar Pradesh and Punjab, was held in the midst of the Budget session earlier this year.
Himachal Pradesh went to the polls on Thursday while Gujarat is scheduled to vote on December 9 and 14.
According to sources in the Lok Sabha and Rajya Sabha secretariats, the Cabinet Committee on Parliamentary Affairs meets a fortnight before the convening of a session to decide and announce the dates, and members of Parliament are intimated thereafter. This is yet to be done.
Opposition leaders have said the government does not want to face Parliament, with questions being raised on the Centre's demonetisation drive besides calling into question the goods and services tax and the alleged business dealings of Bharatiya Janata Party President Amit A Shah's son Jay Shah.
Union Agriculture Minister Radha Mohan Singh is scheduled to reach out to some farmer organisations on November 15, but not to the 180-odd organisations who have come together to protest on November 20.
The Bharatiya Mazdoor Sangh, the Rashtriya Swayamsevak Sangh-affiliated trade union, has planned a protest to highlight the problems of the farm sector on November 17.
In Nagpur, BJP MP Nana Patole said senior party leader Yashwant Sinha and Lok Sabha MP Shatrughan Sinha will address a convention of farmers in Akola in eastern Maharashtra on December 1.
Patole was in the news recently for saying that the PM didn't like to take questions. Sinha is also slated to address meetings in Gujarat in mid-November.
Patole also claimed that he was approached by the Congress and Shiv Sena, both of whom asked him to join their party. Both offers were, however, declined by Patole who said he did not want to leave the BJP.
The BJP MP, however, said he would try meet Congress Vice-President Rahul Gandhi to discuss farmer-related issues during the winter session of Parliament.
IMAGE: Prime Minister Narendra D Modi, flanked by Ministers Mukhtar Abbas Naqvi, Dr Jitendra Singh and Ananth Kumar, addresses the media before a Parliament session. Photograph: PTI Photo