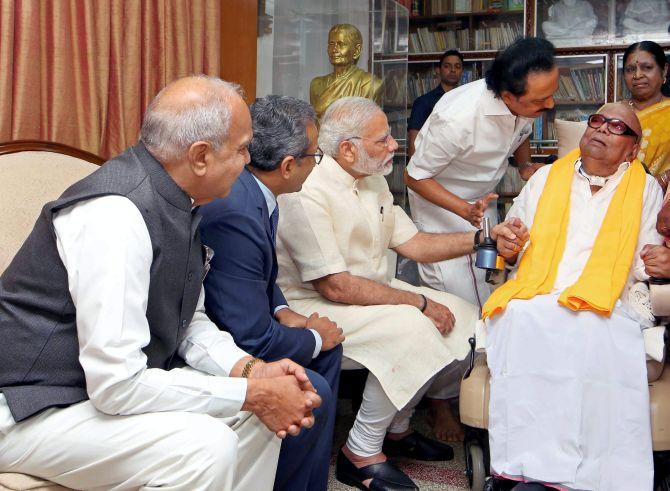 IMAGE: Prime Minister Narendra Modi meets DMK chief M Karunanidhi as party working president M K Stalin looks on at their residence in Chennai on Monday. Photograph: PTI Photo

Prime Minister Narendra Modi on Monday met ailing Dravida Munnetra Kazhagam supremo M Karunanidhi, a former Tamil Nadu chief minister, even as the regional party indicated that the meeting did not have any political overtones.
This was the first meeting between the two leaders after Modi became the prime minister in May 2014.
The meeting at Karunanidhi's Gopalapuram residence during which Modi enquired about his health lasted about 20 minutes.
Modi sat next to wheelchair-bound Karunanidhi, 93, and held his hands.
"Met former Tamil Nadu CM, Thiru M Karunanidhi and enquired about his health.@kalaignar89," Modi wrote on his official Twitter page.
The opposition DMK indicated that not much should be read out of the meeting and that it was a courtesy call.
"Kalaignar (Karunanidhi) is a very senior leader in Indian politics. Mr Modi has respect for Kalaignar," DMK spokesperson T K S Elangovan said.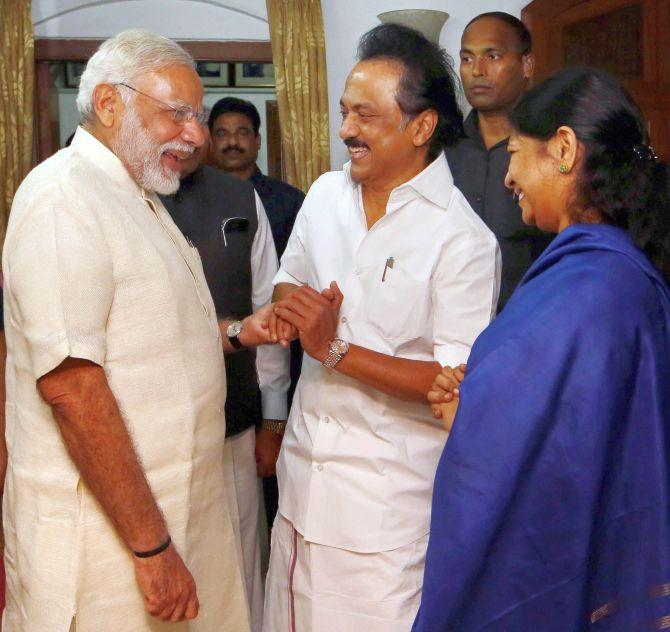 IMAGE: Modi shares a laugh with DMK working president M K Stalin and Kanimozhi. Photograph: PTI Photo

He said in the past, when both were chief ministers, they used to greet each other during meetings in Delhi and this has been the practice.
"This is a courtesy call," he said, adding, the meeting was only to greet the leader who is recuperating.
Karunanidhi's son M K Stalin, who is DMK working president, welcomed Modi at the gate of the residence and honoured him with a red shawl.
Stalin, also Leader of the Opposition in the state assembly, on his official Twitter page said that Modi during the meeting wished Karunanidhi a "speedy and full recovery".
"Hon'ble PM @narendramodi made a courtesy call on Dr @kalaignar89... The PM enquired about his health & wished him a speedy & full recovery," Stalin wrote.
During his visit, Modi was accompanied by state Governor Banwarilal Purohit, Defence Minister Nirmala Sitharaman, Minister of State for Shipping Pon Radhakrishnan and state BJP chief Tamilisai Soundararajan.
Soundarrajan told reporters that the prime minister invited Karunanidhi to visit Delhi.
DMK leaders, including Kanimozhi, who is the daughter of Karunanidhi and a Rajya Sabha MP, were among those present during the meeting.
Later, Karunanidhi made a brief appearance outside and waved at his supporters who cheered him.
Karunanidhi, who took ill in October 2016 due to a drug-induced allergy, was twice admitted to a private hospital in December last.
He has been since confined to his house, but made one rare appearance on October 19 this year when he visited an exhibition held to showcase the 75-year journey of DMK's mouthpiece, 'Murasoli'.
Congress vice-president Rahul Gandhi had called on the nonagenarian DMK patriarch at his residence in December, 2016.
Media should make extra effort to maintain credibility: PM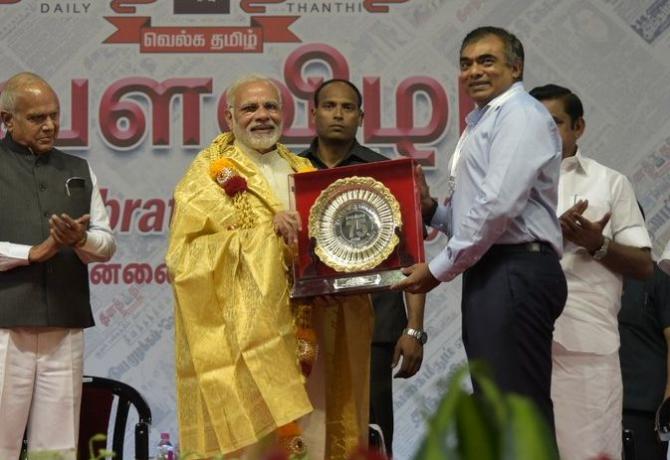 IMAGE: Prime Minister Narendra Modi being felicitated at an event to celebrate the 75th anniversary of Tamil daily Dina Thanthi in Chennai on Monday. Photograph: Kind courtesy @narendramodi/ Twitter
Prime Minister Modi on Monday asked the media to make an 'extra effort to maintain credibility' and ensure publication of accurate news, saying editorial freedom should not be a liberty to be 'factually incorrect'.
He said that editorial freedom should be used in public interest and appealed to the media to focus more on the 'success stories' of the people and not just politicians.
"Editorial freedom must be used wisely in public interest... The freedom to write and to decide what is to be written does not include the freedom to be less than accurate or factually incorrect," he said.
In his address at the 75th anniversary celebrations of leading Tamil daily Dina Thanthi, the prime minister said editors select and decide 'what is important, what is to be given space on page one, what deserves more space and what to be ignored'.
"This of course casts upon them a great responsibility," he said.
Quoting Mahatma Gandhi, he said, 'The press is called the fourth estate. It is definitely a power, but a misuse of power is criminal.'
"Even though the media may be owned by private individuals, it serves a public purpose. As scholars say, it is an instrument to bring reform through peace and not by force," the prime minister said.
Hence, it has as much social accountability as the elected government or the judiciary, Modi said.
Invoking Tamil saint-poet Thiruvalluvar, he said, "There is nothing in this world except ethics which would bring both reputation and wealth together."
Technology has brought about a 'great change' in the media, the prime minister said and recalled that once upon a time headlines were written on the village blackboard which 'carried immense credibility'.
"Today, our media forms entire range from that village blackboard to online bulletin boards," he added.
Citizens analyse, discuss and attempt to cross-check and verify news that come to them through multiple sources, he observed.
"Therefore, the media must make an extra effort to maintain credibility. Healthy competition among credible media platforms is also good for the health of our democracy," he said.
The PM said he believed that the reform in the media whenever required can only come through introspection.
"We have seen this process of introspection happen on some occasions... such as the analysis of reports of the 26/11 Mumbai terror attack. Perhaps it should happen more often," he said.
Modi said a lot of media discussions revolve around politics but the country was 'more than just politicians'.
"It is fair that politics be discussed at length in a democracy. However, India is more than just politicians. It is 1.2 billion Indians who make India what it is today.
"I would be happy to see the media focus a lot more on their (citizens) stories and their achievements," he said.
"In this endeavour, every citizen with a mobile phone is your ally. Citizen reporting can be an important tool in the sharing and dissemination of success stories of individuals," he added.
The media can also be of immense help in directing relief in terms of crisis of nation disaters, the prime minister added.