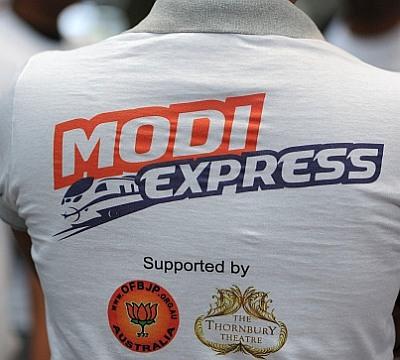 The Indian diaspora in Australia will seek to recreate the Madison Square Garden magic when they will host Prime Minister Narendra Modi in Sydney on Monday in the country's largest indoor arena.

Modi, who is the first prime minister to visit Australia in 28 years after Rajiv Gandhi, arrived in Sydney on Monday on the second leg of his four-city tour of this country.
Australia's aboriginal dancers today gave a traditional welcome to the prime minister.
Modi spent about five minutes at the lobby of Hotel Pullman and watched the four male dancers, who also sang, perform a few dance sequences.
Modi, who sat in a chair, also clapped his hands at the end of each sequences. He later shook hands with dancers.
He got a boomerang as a gift from the dancers.

A boomerang is a thrown tool, typically constructed as a flat aerofoil, that is designed to spin about an axis perpendicular to the direction of its flight. A boomerang is designed to return to the thrower.
Boomerangs have been historically used for hunting, as well as a sport, and entertainment. They are commonly thought of as an Australian icon.
Modi will be on a whirlwind six-hour visit to Sydney before proceeding to Canberra later in the evening and later to Melbourne.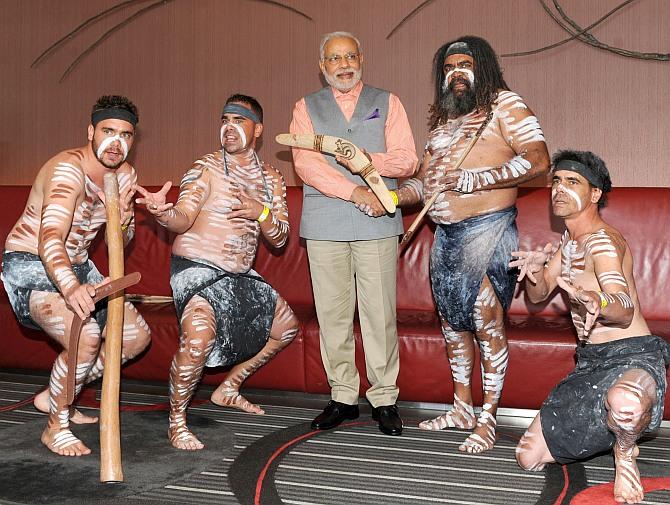 "Modi fever grips Sydney," the Canberra Times said in a headline while carrying a report on its online edition.
"The city will get a dose of Modi-mania on Monday when the Indian Prime Minister makes a quick-fire, high-energy visit," it said.
More than 16,000 members of the Indian Diaspora will pack Allphones Arena at Olympic Park to salute Modi at a community reception. About 5,000 more are expected to be watching the evening event on big screens outside.
"Looks like it's gonna be India day in Sydney," Syed Akbaruddin, the spokesperson of the External Affairs Ministry, tweeted.
"Enthusiasm builds in Sydney. Even before PM ends Brisbane leg, excitement builds up at Sydney event," another tweet said.
"Everyone just can't wait," Balesh Singh Dhankhar, the spokesman for the event organisers was quoted as having said in the Australian media. "The temperature of the festive mood is rising."
More than 200 Modi fans from Melbourne have arrived in Sydney on a specially-chartered train dubbed the "Modi Express."

Image: Prime Minister Narendra Modi is welcomed by the Australian tribal dancers at Sydney on his arrival at the hotel, in Sydney.
Photograph: Press Information Bureau